International Journal of Environment and Pollution
This journal also publishes Open Access articles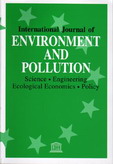 Editor in Chief

Dr. M.A. Dorgham

ISSN online

1741-5101

ISSN print

0957-4352
8 issues per year


Impact factor (Clarivate Analytics) 2023

0.7 (5 Year Impact Factor 0.7)
JCI 0.07

CiteScore

1.5 (2022)

IJEP provides an international forum in the field of environment and pollution and addresses early and medium-term challenges involving scientific prediction, modelling and assessment. It focuses on ground-breaking research in the science of environmental pollution, at the early scientific stage. It is one of three key journals which together offer complete coverage of environmental issues: IJETM focuses on technical/engineering, policy and management solutions for environmental problems, and IJGEnvI focuses on future, longer-term environmental scenarios, ecological economics, climate change and biodiversity.
Topics covered include
Review and assessment of policies
Strategy for policy making
Formulation of national/international environmental protection policy
Comparative legal aspects of pollution
Assessment of risks from water, soil and air pollution; effective and viable remedies
Protection of soil and groundwater
Ecosystem research
Waste disposal strategies
Ecological impact of pollutants
Clean technologies
Technological hazards
Evaluation of environmental risk and safety
Environment and sustainable development
Environmental education and training
More on this journal...
Objectives
The objectives of IJEP are to establish an effective channel of communication between policy makers, government agencies academics and research institutions and persons concerned with the complex issues of environment and pollution, and to provide a forum for them to disseminate information and to learn from each other|s work. The international dimension is emphasised in order to overcome cultural and national barriers and to meet the needs of accelerating technological change and changes in the global economy.
Readership
Professionals, academics, researchers and policy makers.
Contents
IJEP publishes original and review papers, technical reports, case studies, conference reports, management reports, book reviews, and notes, commentaries and news. Contribution may be by submission or invitation, and suggestions for special issues and publications are welcome.
Editor in Chief
Dorgham, M.A., International Centre for Technology and Management, UK
(editorialinderscience.com)
Associate Editors
Ge, Yue, U.S. Environmental Protection Agency, USA
Jain, Ravi, University of the Pacific, USA
Lall, Somik, World Bank, USA
American Editor
Abel, Troy D., Western Washington University, USA
Book Review Editor
Hens, Luc, Vlaams Instituut Technologisch Onderzoek (VITO), Belgium
Editorial Board Members
Ausubel, Jesse H., The Rockefeller University, USA
Black, William, Indiana University, USA
Borrego, Carlos, University of Aveiro, Portugal
Builtjes, Peter, TNO Environment, Energy and Process Innovation (TNO-MEP), Netherlands
Chadwick, M.J., University of York, UK
Chopra, K., Delhi University Enclave, India
Conti, Marcelo Enrique, Sapienza Università di Roma, Italy
De Marchi, Bruna, University of Bergen, Norway
De Souza Porto, Marcelo Firpo, Centro de Estudos da Saude do Trabalhador e Ecologia Humana, Brazil
Dixon, Robert K., Office of Power Technologies, USA
El-Ashry, Mohammed T., Member, International Task Force on Global Public Goods, Sweden
Estrada-Oyuela, Raul, Ministerio de Relaciones Exteriores, Comercio Internacional y Culto, Argentina
Eyerer, Peter, Fraunhofer Institut für Chemische Technologie (ICT), Germany
Forrister, Dirk, Global and Regional Air Program, USA
Fuchs, Roland, International START Secretariat, USA
Gheorghe, Adrian V., Old Dominion University, USA
Glaser, Gisbert, International Council for Science, France
Hassan, M.H.A., Third World Academy of Sciences, Italy
Haynes, Kingsley E., George Mason University, USA
Heller, Thomas, Stanford University, USA
Hin, Leo Tan Wee, National Institute of Education, Singapore
Honglie, Sun, Chinese Academy of Sciences, China
Hordijk, Leen, Institute for Environment and Sustainability (IES), Italy
Keinath, Thomas M., Clemson University, USA
Kete, Nancy, World Resources Institute, USA
McLean, Brian, Environmental Protection Agency, USA
Mooney, Harold A., Stanford University, USA
Munda, Giuseppe, Universitat Autònoma de Barcelona, Spain
Prinn, R.G., Massachusetts Institute of Technology , USA
Ravetz, J., Research Methods Consultancy, UK
Ruffing, Lorraine, United Nations Conference on Trade and Development (UNCTAD), Switzerland
Solbery, Lee, International Energy Agency, France
Szöllösi-Nagy, A., UNESCO, France
Victor, P.A., York University, Canada
Young, C.E.F., Universidad Federal Rio de Janeiro, Brazil
Young, Mike, University of Adelaide, Australia
A few essentials for publishing in this journal
Submitted articles should not have been previously published or be currently under consideration for publication elsewhere.
Conference papers may only be submitted if the paper has been completely re-written (more details available here) and the author has cleared any necessary permissions with the copyright owner if it has been previously copyrighted.
Briefs and research notes are not published in this journal.
All our articles go through a double-blind review process.
All authors must declare they have read and agreed to the content of the submitted article. A full statement of our Ethical Guidelines for Authors (PDF) is available.
There are no charges for publishing with Inderscience, unless you require your article to be Open Access (OA). You can find more information on OA here.



Submission process

All articles for this journal must be submitted using our online submissions system.
View Author guidelines.
Journal news
Don't cry for me Pingtan Island
1 May, 2023
Pingtan Island is an attractive tourist destination off the east coast of mainland Asia south of the Min River estuary complex. One of its most well-known natural features that draws the crowds are the "blue tears". This natural phenomenon is a blue glow that emanates from various species of plankton that bloom in the waters around the island and is seen on the island's beaches and surrounding rocks. Many tens of thousands of plankton cells present in every litre of seawater during the main blooming period April to July can produce a bioluminescent glow in turbulent waters. With such blooms there is always the concern that there might be a detrimental effect on the water quality, the other marine life and people and animals swimming in the water. Work in the International Journal of Environment and Pollution has looked at the impact of blue tears on water quality for the first time. The team writes that the main bioluminescent species generating the blue tears is Noctiluca scintillans, rather than Vargula hilgendorfii and others are discussed by other researchers [...]
More details...