International Journal of Environment and Health
This journal also publishes Open Access articles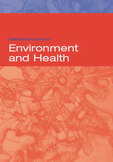 Editor in Chief

Dr. M.A. Dorgham

ISSN online

1743-4963

ISSN print

1743-4955
4 issues per year


CiteScore

0.8 (2022)

IJEnvH is a fully refereed journal that provides an international forum for the development of knowledge in the multidisciplinary research field of environment and health and related subjects, with emphasis on economic, managerial and technological issues. IJEnvH's scope is broad, encompassing several interdependent disciplines including sustainability, environmental management, pollution monitoring and occupational health. IJEnvH aims to provide policy and managerial guidance to decision makers and is also a valuable teaching resource.
Topics covered include
Sustainability and sustainable development
Impact of pollutants on the environment and human health
Green technologies, circular economy
Corporate sustainability and social responsibility (CSSR)
Ecosystem protection, restoration and recovery
Environmental and health risk assessment
Health economics
Environmental management
Analytical aspects of environmental and health monitoring
Bioindicators, biomarkers and biosensors
Indoor pollution, professional risks and occupational exposure
Environment and health legislation and its implications for policy making
Bioethical issues
Sport, physical exercise and health
More on this journal...
Objectives
IJENVH publishes original and review articles focusing on the different aspects of environmentally related health problems, covering both theoretical modelling and applied research: analytical monitoring of biological, chemical and physical contaminants; applied clinical studies; ecotoxicology and biomonitoring; environmental biosensors and biomarkers; ecosystem protection and management; environmental restoration and recovery; environmentally related diseases/pathologies; regulatory aspects and legislation; bioethical issues.
Readership
Professionals, researchers, scholars and policy makers interested in the study of environment and health problems, including technology managers, engineering and business educators, academic institutions and all those involved in these topics.
Contents
IJENVH publishes full original and review papers, short communications and mini-reviews, technical reports, case studies, book reviews, and notes commentaries and news. IJENVH also hosts Conference Proceedings and abstracts within its scope. All contributions may be freely submitted as well as called by invitation. The Editors strongly encourage suggestions and proposals for thematic special issues.
Honorary Editor
Conti, Marcelo Enrique, Sapienza Università di Roma, Italy
Editor in Chief
Dorgham, M.A., International Centre for Technology and Management, UK
(supportinderscience.com)
Associate Editors
Botrè, Francesco, Sapienza, Università di Roma, Italy
Iavicoli, Ivo, University of Naples, Federico II, Italy
Roses, Otmaro Enrique, Universidad de Buenos Aires, Argentina
Salibian, Alfredo, Universidad Nacional de Luján, Argentina
Simone, Cristina, University of Rome 'La Sapienza', Italy
Editorial Board Members
Afonso, María dos Santos, University of Buenos Aires, Argentina
Albores, Arnulfo, Centro de Investigacion y de Estudios Avanzados del IPN, Mexico
Astel, Aleksander, Pomeranian Academy, Poland
Calesini, Irene, Centro Salute Mentale ASL Roma G, Italy
Favero, Gabriele, Sapienza University of Rome, Italy
Finoia, Maria Grazia, Istituto Superiore per la Protezione e la Ricerca Ambientale (ISPRA), Italy
Horvat, Milena, Jožef Stefan Institute , Slovenia
Jiang, Yueming, Guangxi Medical University, China
Maielli, Giuliano, Queen Mary University of London, UK
Matta, Elías Jorge, Universidad Nacional del Litoral (UNL), Argentina
Mazzei, Franco, Sapienza, Università di Roma, Italy
Mecozzi, Mauro, Istituto Superiore per la Protezione e la Ricerca Ambientale (ISPRA), Italy
Moshammer, Hanns, Medical University of Vienna, Austria
Nascarella, Marc A., Gradient, USA
Pignata, María Luisa, Universidad Nacional de Córdoba, Argentina
Plà, Rita R., Comisión Nacional de Energía Atómica, Argentina
Salas Vallina, Andrés, Florida State University, Spain
Torres Sánchez, Rosa María, Centro de Tecnologia de Recursos Minerales y Ceramica, Argentina
Tudino, Mabel B., University of Buenos Aires, Argentina
Vásquez, Julio A., Universidad Católica del Norte, Chile
Xu, Xiaohui, University of Florida, USA
A few essentials for publishing in this journal
Submitted articles should not have been previously published or be currently under consideration for publication elsewhere.
Conference papers may only be submitted if the paper has been completely re-written (more details available here) and the author has cleared any necessary permissions with the copyright owner if it has been previously copyrighted.
Briefs and research notes are not published in this journal.
All our articles go through a double-blind review process.
All authors must declare they have read and agreed to the content of the submitted article. A full statement of our Ethical Guidelines for Authors (PDF) is available.
There are no charges for publishing with Inderscience, unless you require your article to be Open Access (OA). You can find more information on OA here.



Submission process

All articles for this journal must be submitted using our online submissions system.
View Author guidelines.
Line numbering is mandatory. All lines of the manuscript should be numbered continuously using the line numbering feature typically available on word processing software.