International Journal of Enterprise Network Management
This journal also publishes Open Access articles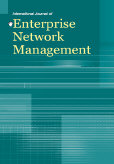 Editor in Chief

Prof. Siau Ching Lenny Koh

ISSN online

1748-1260

ISSN print

1748-1252
4 issues per year


CiteScore

1.3 (2022)

IJENM addresses the interaction, collaboration, partnership and cooperation between SMEs and larger enterprises in a supply chain. More innovative analysis and better understanding of complexity in a supply chain are essential in today's global businesses. Supply networks at every tier have different levels of complexity and specific types of enterprises and industries have dedicated characteristics and constraints. New and adapted theories, configurable models and frameworks are necessary for enterprises to compete and perform in the dynamic, complex, evolving supply chain.
Topics covered include
Material requirements planning (MRP), manufacturing resource planning (MRPII)
Enterprise resource planning (ERP)
Supplier/distribution networks, supply chain dynamics and uncertainty
Supplier relationship management (SRM), customer relationship management (CRM)
Business to business (B2B) and business to consumer (B2C)
E-procurement, e-commerce, e-business, e-organisation
Business intelligence and knowledge management
Supply chain management (SCM), demand chain management (DCM)
Order fulfilment and quick response
Strategic alliances and partnerships, outsourcing and off-shoring
Small/medium sized enterprises (SMEs) competitiveness
Manufacturing, logistics and information technology/systems
Performance measurement and benchmarking
Inbound/outbound logistics, third party logistics (3PL), fourth party logistics (4PL)
Reverse logistics, eco-logistics and de-distribution, green supply chains
More on this journal...
Objectives
The objectives of IJENM are to establish an effective channel of communication between policy makers, government agencies, academic and research institutions and persons concerned with the management of enterprises and supply chains. It aims to bring together current research, development and application in improving enterprises and supply chain management performances. Study with enterprise-specific, cluster-specific, industry-specific, country-specific, national-focus or international-focus is welcome.
Readership
IJENM provides a domain to assist professionals, academics, researchers, policy makers and practitioners, working in the field of enterprise management, operations management, supply chain management, and technology management, to disseminate information and to learn from each other's work.
Contents
IJENM publishes original papers, review papers, technical reports, case studies, conference reports, management reports, book reviews, notes, commentaries, and news. Special Issues devoted to important topics in enterprise management, operations management, supply chain management, and technology management, will occasionally be published.
Editor in Chief
Koh, Siau Ching Lenny, University of Sheffield, UK
(S.C.L.Kohsheffield.ac.uk)
Editor
Ganesh, K., McKinsey and Company, India
Associate Editor
Pazhani, Subramanian, GlobalFoundries, USA
American Editor
Gunasekaran, Angappa, Penn State Harrisburg, USA
Asian Editor
Lee, Tzong-Ru (Jiun-Shen), National Chung Hsing University, Taiwan, Province of China
European Editor
Ketikidis, Panayiotis H., University of Sheffield International Faculty, CITY College, Greece
Editorial Board Members
Ashayeri, Jalal, Tilburg University, Netherlands
Athayde, Rosemary, Kingston University, UK
Campbell, N., Business Link South Yorkshire, UK
Chan, Felix T.S., Macau University of Science and Technology, Macao
Cheng, Kai, Brunel University London, UK
Childe, S., Plymouth University, UK
Chiu, Ruey Kei, Fu-Jen Catholic University, Taiwan, Province of China
Cullen, John, University of Sheffield, UK
De, Gauranga, McKinsey and Company, India
Deisenroth, M., Virginia Polytechnic Institute and State University, USA
Doukidis, Georgios, Athens University of Economics and Business, Greece
Ducq, Yves, University of Bordeaux-1, France
Glaister, Keith, Leeds University Business School, UK
Ho, Bruce Chien-Ta, National Chung Hsing University, Taiwan, Province of China
Huang, George Q., The University of Hong Kong, Hong Kong SAR, China
Irani, Zahir, Brunel University, UK
Jabłoński, Adam, University of Dabrowa Górnicza, Poland
Karia, Noorliza, Universiti Sains Malaysia, Malaysia
Lee, W. B., The Hong Kong Polytechnic University, Hong Kong SAR, China
Lin, Binshan, Louisiana State University in Shreveport, USA
Lin, Grier, University of South Australia, Australia
Newman, Stephen T., University of Bath, UK
O'Brien, Chris, University of Nottingham, UK
Putnik, Goran, University of Minho, Portugal
Richter, Micheal, Institute of Arbeitswirtschaft und Organisation (IAO), Germany
Saad, Sameh, Sheffield Hallam University, UK
Sharma, Milind Kumar, Jai Narain Vyas University, India
Sohal, Amrik, Monash University, Australia
Tan, K.H., University of Nottingham, UK
Wang, Lihui, KTH Royal Institute of Technology, Sweden
Yih, Y., Purdue University, USA
A few essentials for publishing in this journal
Submitted articles should not have been previously published or be currently under consideration for publication elsewhere.
Conference papers may only be submitted if the paper has been completely re-written (more details available here) and the author has cleared any necessary permissions with the copyright owner if it has been previously copyrighted.
Briefs and research notes are not published in this journal.
All our articles go through a double-blind review process.
All authors must declare they have read and agreed to the content of the submitted article. A full statement of our Ethical Guidelines for Authors (PDF) is available.
There are no charges for publishing with Inderscience, unless you require your article to be Open Access (OA). You can find more information on OA here.



Submission process

All articles for this journal must be submitted using our online submissions system.
View Author guidelines.
Journal news
Surprising influences on employee intention to quit
20 September, 2023
Research in the International Journal of Enterprise Network Management reveals unexpected factors that influence an employee's intentions to quit their job in information technology. The findings challenge the received wisdom and could shed light on the dynamic role of online professional networking and social media profile updates. There has been much research in employee intention to quit as it can have a significant impact on a wide range of organisations. Conventionally, researchers have focused on factors such as job satisfaction and organizational commitment. These are the standard key indicators that can help predict which employees might be planning to leave and so allow organisations to perhaps manage staff turnover more effectively. However, there was an obvious gap in understanding how online activities, such as updating job profiles on social media platforms and engaging in professional networking sites, affect a person's intention to leave a job. Ashish Kumar Biswas of Narsee Monjee Institute of Management Studies (Deemed to be University) in Hyderabad, R. Seethalakshmi of VIT-AP University in Amaravati, and Prabha Mariappan of Veltech University in Chennai, India, have employed a quantitative survey approach involving almost 600 participants and used a structural equation model to test their hypothesis and hopefully help fill this gap in our understanding of employee intention to quit [...]
More details...