International Journal of Electronic Marketing and Retailing
This journal also publishes Open Access articles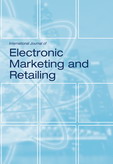 Editor in Chief

Prof. Gandolfo Dominici

ISSN online

1741-1033

ISSN print

1741-1025
4 issues per year


CiteScore

1.9 (2022)

The world of electronic marketing is continuously evolving. Marketing theories and practices must adapt to these new technological and social scenarios. IJEMR addresses this evolution by analysing new theories and practices as they emerge with particular focus on electronic retailing. Current technological and quantitative approaches to e-marketing, treating consumer relations as a database problem, are insufficient for a deeper understanding of the implications of this evolution. IJEMR fills this gap, fostering new cutting-edge approaches to e-marketing, e-consumers and e-tailing.
Topics covered include
Advances in e-marketing, applications
Internet of things
Smart technologies and mobile marketing
Big data management
Customer participation and value co-creation
Service marketing
Consumer ethnography and netnography
Supply chain management
Channel management, e-tailing
Innovation/product development
Marketing strategies and management
Consumer behaviour
Customer relationship management
Social media marketing
Security/privacy, ethics/legal issues
More on this journal...
Objectives
The objectives of IJEMR are to attract and publish original theoretical and practical manuscripts from academics and professionals from all disciplines regarding a wide range of contemporary issues in e-marketing and e-tailing. The aims of the journal are to disseminate knowledge, provide a learned reference in the field and facilitate communication between academics, research experts and executives. IJEMR favours qualitative studies but does not preclude any methodologies and is open to any conceptually rigorous approach.
Readership
Academics, researchers, professionals, and executives engaged in e-marketing and retailing.
Contents
IJEMR publishes cutting edge, high-quality and original results, methodologies, theories, concepts, models and applications from academicians, researchers and professionals on any aspect of electronic marketing and retailing. Special Issues devoted to important topics will be published occasionally
Editor in Chief
Dominici, Gandolfo, Business Systems Laboratory and University of Palermo, Italy
(gandolfo.dominicilibero.it)
Associate Editors
Bechter, Clemens, Thammasat University, Thailand
Caputo, Francesco, Università degli Studi di Napoli Federico II, Italy
Editorial Board Members
Alarcón-del-Amo, María del Carmen, University of Murcia, Spain
Basile, Gianpaolo, Business Systems Laboratory, Italy
Ersoy, Nezihe Figen, Anadolou University, Turkey
Esichaikul, Vatcharaporn, Asian Institute of Technology, Thailand
Gajewska, Teresa, Cracow University of Technology, Poland
Heydari, Nastaran Haji, University of Tehran, Iran
Kaufmann, Hans Rüdiger, University of Applied Management Studies Mannheim, Germany
Löbler, Helge, University of Leipzig, Germany
Matić, Matea, University of Dubrovnik, Croatia
Mitan, Andreea, National University of Political Studies and Public Administration, Romania
Morea, Donato, University of Cagliari, Italy
Roma, Paolo, University of Palermo, Italy
Scozzese, Giancarlo, University for Foreigners of Perugia, Italy
Seturidze, Rusudan, Ivane Javakhishvili Tbilisi State University, Georgia
Skarzauskiene, Aelita, Mykolas Romeris University, Lithuania
Thaichon, Park, University of Southern Queensland, Australia
Todua, Nugzar, Ivane Javakhishvili Tbilisi State University, Georgia
A few essentials for publishing in this journal
Submitted articles should not have been previously published or be currently under consideration for publication elsewhere.
Conference papers may only be submitted if the paper has been completely re-written (more details available here) and the author has cleared any necessary permissions with the copyright owner if it has been previously copyrighted.
Briefs and research notes are not published in this journal.
All our articles go through a double-blind review process.
All authors must declare they have read and agreed to the content of the submitted article. A full statement of our Ethical Guidelines for Authors (PDF) is available.
There are no charges for publishing with Inderscience, unless you require your article to be Open Access (OA). You can find more information on OA here.



Submission process

All articles for this journal must be submitted using our online submissions system.
View Author guidelines.
Journal news
Cross-cultural social media effects
25 October, 2023
The effect of different cultural characteristics can affect the relationships consumers using social media have with different brands, according to research published in the International Journal of Electronic Marketing and Retailing. Marsela Thanasi-Boçe and Omar Ali of the American University of the Middle East in Kuwait Ayse Begum Ersoy of Cape Breton University in Nova Scotia, Canada, have examined the role social media plays in the differences in the relationships between consumers and brands. The team used Hofstede's cultural dimensions theory to help them understand social media data gathered from users in Albania and Turkey through online surveys. They used statistical analysis to dig deep into the data and compare the characteristics of communication on social media between these two regions. The team found a positive correlation between social media communications and the strength of consumer-brand relationships [...]
More details...