International Journal of Entrepreneurship and Innovation Management
This journal also publishes Open Access articles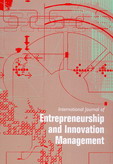 Editor in Chief

Dr. M.A. Dorgham

ISSN online

1741-5098

ISSN print

1368-275X
6 issues per year


CiteScore

1.3 (2022)

IJEIM provides a refereed and authoritative source of information and international forum in the field of entrepreneurship and innovation management and related topics. It offers an interface between entrepreneurship and innovation, as well as business corporate strategy and government economic policy. The journal is supported by the International Society for Professional Innovation Management (ISPIM).
Topics covered include
Corporate innovation restructuring
Managing/leading fast-paced high-tech start-ups
Intrapreneurship/corporate venturing
International aspects of entrepreneurship
Entrepreneurship in economic development
New business incubators, networks, technology parks, etc
Government policies
Venture capital, government funds/grants
Technological/organisational innovation
Strategic cooperation among SMEs
Case studies, lessons learnt
Strategy development/implementation where high-tech/market risk
Innovation, technopreneurship, licensing/franchising
Marketing of innovations/by entrepreneurs
Cross-cultural management
More on this journal...
Objectives
IJEIM aims to establish channels of communication and to disseminate knowledge between policy makers, experts and professionals working in universities, government departments, research institutions, as well as industry and related business.
Readership
Professionals, academics, researchers, managers, policy makers.
Contents
IJEIM publishes original papers, theory-based empirical papers, review papers, case studies, conference reports, relevant reports and news, book reviews and briefs. Commentaries on papers and reports published in the Journal are encouraged. Authors will have the opportunity to respond to the commentary on their work before the entire treatment is published. Special Issues devoted to important topics in Entrepreneurship and Innovation Management, and related topics, will be published occasionally.
Editor in Chief
Dorgham, M.A., International Centre for Technology and Management, UK
(editorialinderscience.com)
Associate Editors
Bitran, Iain, The International Society for Professional Innovation Management (ISPIM), UK
Freiling, Jörg, University of Bremen, Germany
Loué, Christophe, Novancia Business School Paris, France
Striukova, Ludmila, University College London , UK
Von Zedtwitz, Max, Tongji University, China
Regional Editors
Chapman, Ross, Deakin University, Australia
Muffatto, Moreno, Universita di Padova, Italy
Japanese Editor
Yonekura, Seiichiro, Hitotsubashi University, Japan
Editorial Board Members
Bae, Zong-tae, Korea Advanced Institute of Science and Technology (KAIST), South Korea
Brockhoff, Klaus K., Wissenschaftliche Hochschule für Unternehmensführung, Germany
Buechtemann, Christoph F., International Centre for Research on Innovation and Society, USA
Burr, Wolfgang, Universität Stuttgart, Germany
Corti, Eugenio, University 'Federico II', Italy
Gassmann, Oliver, University of St. Gallen, Switzerland
Goffin, Keith, Cranfield School of Management, UK
Herstatt, Cornelius, Technische Universität Hamburg-Harburg (TUHH), Germany
Karlsson, Christer, Copenhagen Business School, Denmark
King, Lim Mong, Nanyang Technological University, Singapore
Low, T.S., National University of Singapore, Singapore
Maggioni, Vincenzo, Second University of Naples, Italy
Maldifassi, José, Universidad Adolfo Ibañez, Chile
Molina, Alfonso H., The University of Edinburgh, UK
Morone, Joseph, Bentley College, USA
Nakahara, Tsuneo, Sumitomo Electric Industries Ltd., Japan
Perrons, Robert K., Queensland University of Technology, Australia
Rama, Ruth, Instituto de Economia y Geografia, CSIC, Spain
Smeds, Riitta, Helsinki University of Technology, Finland
Sorensen, Olav Jull, Aalborg University, Denmark
Souitaris, Vangelis, City University, UK
Stough, Roger R., George Mason University, USA
Tawara, Nobuhiko, Japan Industrial Management Association, Japan
Tschirky, Hugo, Swiss Federal Institute of Technology Zurich (ETHZ), Switzerland
A few essentials for publishing in this journal
Submitted articles should not have been previously published or be currently under consideration for publication elsewhere.
Conference papers may only be submitted if the paper has been completely re-written (more details available here) and the author has cleared any necessary permissions with the copyright owner if it has been previously copyrighted.
Briefs and research notes are not published in this journal.
All our articles go through a double-blind review process.
All authors must declare they have read and agreed to the content of the submitted article. A full statement of our Ethical Guidelines for Authors (PDF) is available.
There are no charges for publishing with Inderscience, unless you require your article to be Open Access (OA). You can find more information on OA here.



Submission process

All articles for this journal must be submitted using our online submissions system.
View Author guidelines.
Journal news
Inderscience journals accepted for indexing in Studies on Women and Gender Abstracts database
25 September, 2023
The Editorial Office is pleased to report that the following journals have been accepted for indexing in Taylor & Francis's Studies on Women and Gender Abstracts database: