International Journal of Experimental Design and Process Optimisation
This journal also publishes Open Access articles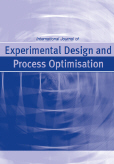 Editor in Chief

Prof. John Kechagias

ISSN online

2040-2260

ISSN print

2040-2252
2 issues per year

IJEDPO publishes original contemporary research with substantiated and well-reasoned supporting evidence showing potential for advancing industrial practice and strengthening current theory. It boasts a broad coverage of applied experimental statistics and experimental design for understanding and enhancing processes or systems in the physical, chemical and engineering sciences, and for addressing cross-disciplinary issues in quality, manufacturing, healthcare, human factors, pharmaceuticals and service systems. While encouraging a broad spectrum of contributions, IJEDPO's core interest lies in statistical modelling/optimisation issues for process improvement.
Topics covered include
Design of experiments and data analysis, experimental statistics
Quality by design, quality control and engineering
Robust design and multi-parameter multi-objective optimisation
Manufacturing processes design and optimisation
Mechanical engineering, materials processing, modelling and simulation
Industrial engineering and operations research
Bioengineering, healthcare systems and pharmaceuticals
Optimisation for additive manufacturing, fibres and textiles
Decision making under uncertainty
Multidisciplinary research
More on this journal...
Objectives
The use of statistical methods is becoming increasingly critical for process enhancement and optimisation in a variety of environments in many industries. The objective of IJEDPO is to contribute to the technical advancement of the field of experimental design and process optimisation by publishing papers that emphasise the practical applicability of new techniques and instructive examples of existing techniques by establishing active channels of communication between researchers and practitioners. The primary focus of this journal is on the state-of-the-art of experimental design and process optimisation, targeting today's challenges and tomorrow's needs.
Readership
IJEDPO provides a vehicle to help professionals, academics, researchers and practitioners working in the broad field of experimental design and process optimisation to disseminate information and to assure knowledge transfer among various fields of theoretical developments and application areas.
Contents
IJEDPO publishes original papers, technical reports, and case studies. Review and tutorial papers are also acceptable if they are written in a style suitable for practicing engineering and science. For a special issue devoted to specific sub-field of experimental design and process optimisation, authors are encouraged to contact the Editor-in-Chief.
Editor in Chief
Kechagias, John, University of Thessaly, Greece
(ijedpo.editorgmail.com)
Assistant Editor
Markopoulos, Angelos, National Technical University of Athens, Greece
Regional Editor Europe
Stavropoulos, Panagiotis, University of Patras, Greece
Regional Editor India
Srivastava, Manu, Indian Institute of Information Technology, Design and Manufacturing, India
Subject Editor (Advanced Manufacturing in Healthcare Applications)
Bagheri, Shaghayegh, George Mason University, USA
Subject Editor (Textiles and Fashion)
Spahiu, Tatjana, Polytechnic University of Tirana, Albania
Editorial Board Members
Allen, Theodore T., The Ohio State University, USA
Amaitik, Nasser, Aston University, UK
Ben-Gal, Irad, Tel Aviv University, Israel
Chang, Shing I, Kansas State University, USA
Chiriță, Bogdan Alexandru, "Vasile Alecsandri" University of Bacău, Romania
Chivu, Catrina, Transilvania University of Brasov, Romania
Cho, Byung Rae, Clemson University, USA
De Amorim Almeida, Henrique, Polytechnic Institute of Leiria, Portugal
Epiphaniou, Gregory, Warwick Manufacturing Group, UK
Grossmann, Heiko, Queen Mary, University of London, UK
Kapur, Kailash C., University of Washington, USA
Kim, Kwang-Jae, Pohang University of Science and Technology (POSTECH), South Korea
Montgomery, Douglas C., Arizona State University, USA
Moradi, Mahmoud, University of Northampton, UK
Nayak, Ashish Kumar, Prasad V. Potluri Siddhartha Institute of Technology, India
Ng, Szu Hui, National University of Singapore, Singapore
Pervaiz, Salman, Rochester Institute of Technology, United Arab Emirates
Rahim, Abdur, University of New Brunswick, Canada
Rathee, Sandeep, National Institute of Technology, Srinagar, India
Romano, Daniele, University of Cagliari, Italy
Salonitis, Konstantinos, Cranfield University, UK
Schaub, Diane, University of Florida, USA
Shin, Sangmun, Dong-A University, South Korea
Teicher, Uwe, Fraunhofer-Institut für Werkzeugmaschinen und Umformtechnik IWU, Germany
Tiwary, Vivek Kumar, KLS Gogte Institute of Technology, India
Tseng, Shih-Hsien, National Taiwan University of Science and Technology, Taiwan, Province of China
Yang, Kai, Wayne State University, USA
A few essentials for publishing in this journal
Submitted articles should not have been previously published or be currently under consideration for publication elsewhere.
Conference papers may only be submitted if the paper has been completely re-written (more details available here) and the author has cleared any necessary permissions with the copyright owner if it has been previously copyrighted.
Briefs and research notes are not published in this journal.
All our articles go through a double-blind review process.
All authors must declare they have read and agreed to the content of the submitted article. A full statement of our Ethical Guidelines for Authors (PDF) is available.
There are no charges for publishing with Inderscience, unless you require your article to be Open Access (OA). You can find more information on OA here.



Submission process

All articles for this journal must be submitted using our online submissions system.
View Author guidelines.