International Journal of Decision Sciences, Risk and Management
This journal also publishes Open Access articles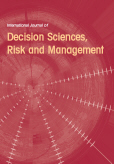 Editor in Chief

Dr. Ioannis Lagoudis

ISSN online

1753-7177

ISSN print

1753-7169
4 issues per year

IJDRSM aims at making an impact on people, organisations and societies by tackling real-life problems. Contributions to the journal provide managerial and policy insights, assisting in improving the wellbeing of people and communities. We expose our readers to innovative ideas, methods, frameworks, tools and solutions for improving their decision-making processes at strategic, operational and tactical levels. Contributions are both quantitative and qualitative, presenting a structured thought process that can be applied within industry and academia.
Topics covered include
Decision making
Management
Strategic management
Operations management
Supply chain management
Human resource management
Risk management
Information technology systems
Artificial intelligence
Innovation
Marketing
Quality management
Entrepreneurship
Sustainability
More on this journal...
Objectives
IJDSRM aims to cultivate a multidisciplinary, as well as a thorough and analytic approach, to management and decision-making. It sets out to achieve its aims by promoting high-quality research, integration of scientific methods and research agendas, and sharing of practitioner experience and insight, as applied in the context of decision sciences, risk and management. Explicit and multidisciplinary research in these areas is particularly encouraged.
In addition IJDSRM maintains an international scope and a high-standard refereeing process for achieving its objectives. The journal welcomes research that advances, extends, or combines explicit or multidisciplinary decision science, risk and management research into novel schools of thought, as well as seminal and niche-shaping approaches, that allow decision makers to gain better insights into structured or unstructured and complex management problems that extend from the operational level all the way to strategic.
Readership
IJDSRM shapes its content from the research needs of a wide-ranging, but tightly focused set of groups that are actively involved in shaping and advancing the decision making, risk and management fields, including academics and researchers from management, operations research, finance, economics, information systems and technology, as well as decision-making stakeholder groups including company executives, government and policy makers, entrepreneurs and SMEs, regional and international institutions, non-governmental organisations and public-private-partnerships worldwide.
Contents
IJDRSM publishes original papers, review papers, case studies and book reviews. Special Issues devoted to important topics in decision science, risk and management will occasionally be published.
Submission to the journal must have the following qualities:
Thought leadership: contributors need to have a very good understanding of the subject they present at both theoretical and applied levels
Real life problems: it is important to present problems that stem from the community and provide insights for the improvement of the lives of the stakeholders involved
Innovation: contributions should not be limited to presenting cutting-edge innovations but must also present ways of using and managing innovations
Impact: when submitting an idea, focus should be given to the impact it has at industry, academic, social and policy levels
Honorary Editor
Mihiotis, Athanassios, Hellenic Open University, Greece
Editor in Chief
Lagoudis, Ioannis, University of Piraeus, Greece
(ijdsrm.editorgmail.com)
Editorial Board Members
Ata, Asad, Asian School of Business, Malaysia
Dasaklis, Thomas K., Hellenic Open University, Greece
Escribano Macias, Jose, Imperial College London, UK
Galanis, George, Hellenic Naval Academy, Greece
Jiang, Liping, Copenhagen Business School, Denmark
Koufopoulos, Dimitrios N., University of London, UK
Lin, Junyi, Xi'an Jiaotong-Liverpool University, China
Naim, Mohamed M., Cardiff University, UK
Polydoropoulou, Amalia, University of the Aegean, Greece
Shiftan, Yoram, Technion - Israel Institute of Technology, Israel
Theotokas, Ioannis, University of Piraeus, Greece
Tsirimpa, Athina, American College of Greece, Greece
A few essentials for publishing in this journal
Submitted articles should not have been previously published or be currently under consideration for publication elsewhere.
Conference papers may only be submitted if the paper has been completely re-written (more details available here) and the author has cleared any necessary permissions with the copyright owner if it has been previously copyrighted.
Briefs and research notes are not published in this journal.
All our articles go through a double-blind review process.
All authors must declare they have read and agreed to the content of the submitted article. A full statement of our Ethical Guidelines for Authors (PDF) is available.
There are no charges for publishing with Inderscience, unless you require your article to be Open Access (OA). You can find more information on OA here.



Submission process

All articles for this journal must be submitted using our online submissions system.
View Author guidelines.