International Journal of Data Mining, Modelling and Management
This journal also publishes Open Access articles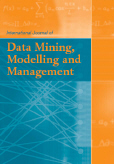 Editor in Chief

Prof. John Wang

ISSN online

1759-1171

ISSN print

1759-1163
4 issues per year


Impact factor (Clarivate Analytics) 2023

0.5 (5 Year Impact Factor 0.5)
JCI 0.08

CiteScore

0.9 (2022)

Facilitating transformation from data to information to knowledge is paramount for organisations. Companies are flooded with data and conflicting information, but with limited real usable knowledge. However, rarely should a process be looked at from limited angles or in parts. Isolated islands of data mining, modelling and management (DMMM) should be connected. IJDMMM highlightes integration of DMMM, statistics/machine learning/databases, each element of data chain management, types of information, algorithms in software; from data pre-processing to post-processing; between theory and applications.
Topics covered include
Artificial intelligence
Biomedical science
Business analytics/intelligence, process modelling
Computer science, database management systems
Data management, mining, modelling, warehousing
Engineering
Environmental science, environment (ecoinformatics)
Information systems/technology, telecommunications/networking
Management science, operations research, mathematics/statistics
Social sciences
Business/economics, (computational) finance
Healthcare, medicine, pharmaceuticals
(Computational) chemistry, biology (bioinformatics)
Sustainable mobility systems, intelligent transportation systems
National security
More on this journal...
Objectives
IJDMMM aims to provide a professional forum for formulating, discussing and disseminating these solutions, which relate to the design, development, deployment, management, measurement, and adjustment of data warehousing, data mining, data modelling, data management, and other data analysis techniques. They should form a common ground on which a data chain management system can be built, shared and supported by professionals from different disciplines.
IJDMMM provides a communication channel between practitioners and academics to discuss problems, challenges and opportunities in all aspects of data mining, data modelling, data analysis, and data management. The process of knowledge creation can include multiple components, including data acquisition/collection, data accumulation, data maturation, data selection and refining, data storage and retrieval, data pre-processing, data analysis and validation, data maintenance and data presentation, data warehousing, data mining and/or modelling, and information extraction. Therefore, data chain management cannot be isolated, separated, broken, or ignored. It is an integrated and interconnected process.
Readership
Academics and libraries in the field
Consultants
Data analysts and data miners
Database administrators
Revenue and/or risk managers
Applied statisticians
Operation researchers
Management scientists
Marketing researchers and managers
Policy makers
Strategic planners
Educators and graduate students
Problem solvers and decision makers
Contents
IJDMMM publishes research papers, innovative ideas, reviews, surveys, debates, reports, case studies, position notes, practice comments, book reviews, commentaries, and news. Special issues devoted to important topics in data mining, modelling and management will occasionally be published.
Editor in Chief
Wang, John, Montclair State University, USA
(prof.johnwanggmail.com)
Managing Editor
Chen, Zhiyuan, University of Maryland Baltimore County, USA
American Editor
McLeod, Dennis, University of Southern California, USA
Australian Editor
Zhao, Yanchang, Commonwealth Scientific and Industrial Research Organisation, Australia
European Editor
Liberati, Diego, Italian National Research Council, Italy
Indian Editor
Saxena, Amit, Central University, India
Japanese Editor
Zhong, Ning, Maebashi Institute of Technology, Japan
Senior Editors
Hüllermeier, Eyke, University of Marburg, Germany
Ras, Zbigniew W., University of North Carolina at Charlotte, USA
Editorial Board Members
Acuna, Edgar, University of Puerto Rico at Mayaguez, Puerto Rico
Afolabi, Sulaimon Atolagbe, Africa4AI, South Africa
Aghaei, Iman, Cyprus International University, Cyprus
Ahmed, Abd El-Aziz, Cairo University, Egypt
Ahmed, Chowdhury Farhan, University of Dhaka, Bangladesh
Akbar Ghanadian, Sara, Ohio University, USA
Aluvalu, Rajanikanth, Vardhaman College of Engineering, India
Arslan, Abdullah, University of Vermont, USA
Asif, Muhammad, National Textile University, Pakistan
Bangyal, Waqas, University of Gujrat, Pakistan
Benali, Khaled, University Tahri Mohammed Bechar, Algeria
Bhattacharyya, Ramkishore, Oracle Corporation, USA
Boru İpek, Aslı, Adana Alparslan Türkeş Science and Technology University, Turkey
Cadot, Martine, University of Nancy, France
Cao, Longbing, Macquarie University, Australia
Caramia, Massimiliano, University of Rome "Tor Vergata", Italy
Cen, Yonghua, Nanjing University of Science and Technology, China
Chan, Christine, University of Regina, Canada
Chandrasekara, Vasana, University of Kelaniya, Sri Lanka
Chen, Suhao, South Dakota School of Mines and Technology, USA
Cuzzocrea, Alfredo, University of Calabria, Italy
Daradkeh, Mohammad, Yarmouk University, Jordan
David, H. Benjamin Fredrick, K.R. College of Arts and Science, India
Dosdogru, Ayse Tugba, Adana Alparslan Türkes Science and Technology University, Turkey
Duan, Yuehua, University of North Carolina at Charlotte, USA
Dubey, Ashutosh Kumar, Chitkara University, India
Dubey, Hema, Maulana Azad National Institute of Technology, India
Dwivedi, Ashutosh Dhar, Copenhagen Business School, Denmark
El Bouhissi, Houda, University of Bejaia, Algeria
Gallinucci, Enrico, University of Bologna, Italy
Gamidullaeva, Leyla, Penza State University, Russian Federation
Garg, Muskan, Amity University, India
Gaur, Loveleen, Taylor's University, Malaysia
Gharehgozli, Amir, California State University Northridge, USA
Gupta, Akash, California State University, Northridge, USA
Gupta, Sangeeta, Chaitanya Bharathi Institute of Technology, India
Hadwan, Mohammed, Qassim University, Saudi Arabia
Huang, Wenxue, Guangzhou University , China
Hunyadi, Daniel, "Lucian Blaga" University of Sibiu, Romania
Jain, Arti, Jaypee Institute of Information Technology, India
Jensen, Richard, Aberystwyth University, UK
Kashyap, Ramgopal, Amity University Chhattisgarh, India
Kelly, Maurie, Pennsylvania State University, USA
Khakifirooz, Marzieh, Tecnológico de Monterrey, Mexico
Khaleel, Mohammed, King Khalid University, Saudi Arabia
Khan, Arfat Ahmad, Khon Kaen University, Thailand
Kretowski, Marek, Bialystok Technical University, Poland
Kundu, Prasenjit, Army Institute of Management, India
Kyaw, Khin Sandar, Prince of Songkla University, Thailand
Labbadi, Wissem, University of Tunis, Tunisia and Hult International Business School, USA
Laurent, Dominique, Université de Cergy-Pontoise, France
Lee-Post, Anita, University of Kentucky, USA
Leung, Carson, University of Manitoba, Canada
Li, Zhao, Zhejiang University, China
Lin, Wen-Yang, National University of Kaohsiung, Taiwan, Province of China
Lo, Victor, Fidelity Investments, USA
Malerba, Donato, Università degli Studi di Bari, Italy
Menaouer, Brahami, National Polytechnic School of Oran - Maurice Audin, Algeria
Mendhe, Vikas, LaunchIT Corp, USA
Mercaldo, Francesco, University of Molise, Italy
Muhlenbach, Fabrice, Université Jean Monnet de Saint-Etienne, France
Obiedat, Mamoon, Hashemite University, Jordan
Olson, David L., University of Nebraska - Lincoln, USA
Ordieres, Joaquin, Politechnical University of Madrid, Spain
Pinarbasi, Fatih, Istanbul Medipol University, Turkey
Rahal, Imad, College of Saint Benedict and Saint John's University, USA
Raja, S.P., Vellore Institute of Technology, India
Rauch, Jan, University of Economics, Czech Republic
Robnik-Sikonja, Marko, University of Ljubljana, Slovenia
Sardana, Divya, Teradata Corp., USA
Segall, Richard S., Arkansas State University, USA
Sharma, Ashish K., O.P. Jindal University, India
Sharma, Nakul, Sinhgad Academy of Engineering, India
Sheth, Prasham, Columbia University, USA
Shokouhyar, Sajjad, University of Shahid Beheshti, Iran
Singh, Mayank, Consilio Research Lab, Estonia
Srinivasan, Satish Mahadevan, Penn State University, USA
Srivastava, Sarthak, Visa Inc, USA
Sundaram, David, University of Auckland, New Zealand
Syerov, Yuriy, Lviv Polytechnic National University, Ukraine
Taherdoost, Hamed, Hamta Group, Canada
Tanbeer, Syed, Sheridan College, Canada
Thangaraj, John M., IBM, USA
Tripathi, Abhishek, The College of New Jersey, USA
Ul Hassan, Mohamed Manzoor, Briggs and Stratton LLC, USA
Umapathi, Vignesh, Vellore Institute of Technology, India
Ursino, Domenico, University Mediterranea of Reggio Calabria, Italy
Wang, Di, AFE Inc., USA
A few essentials for publishing in this journal
Submitted articles should not have been previously published or be currently under consideration for publication elsewhere.
Conference papers may only be submitted if the paper has been completely re-written (more details available here) and the author has cleared any necessary permissions with the copyright owner if it has been previously copyrighted.
Briefs and research notes are not published in this journal.
All our articles go through a double-blind review process.
All authors must declare they have read and agreed to the content of the submitted article. A full statement of our Ethical Guidelines for Authors (PDF) is available.
There are no charges for publishing with Inderscience, unless you require your article to be Open Access (OA). You can find more information on OA here.



Submission process

All articles for this journal must be submitted using our online submissions system.
View Author guidelines.