International Journal of Digital Culture and Electronic Tourism
This journal also publishes Open Access articles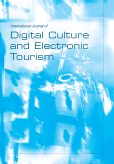 Editor in Chief

Prof. Simona Catuogno

ISSN online

1753-5220

ISSN print

1753-5212
4 issues per year

In the knowledge economy, culture, sports, tourism and other entertainment-sector organisations play important roles in the digitalisation challenge. The digital revolution and Industry 4.0 require changes from these organisations to increase stakeholder engagement in decision-making processes. Current technological/quantitative approaches to information technology provide an insufficient understanding of implications, which require profound analysis of digital technologies' impact. IJDCET fills this gap, fostering dialogue over how such businesses can achieve integrated and renewed approaches emphasising content, context and sustainable business models.
Topics covered include
Accounting, finance, organisation, corporate governance, management (e.g. cultural, entertainment and sports industries, digital companies)
Intellectual capital, intangible assets (e.g. sports, cultural, tourism and entertainment sectors)
Corporate strategy, digital business models, decision making processes
Digital culture, digital society, corporate disclosure
Digital transformation, digital revolution, Industry 4.0, smart technologies
CSR, business ethics, stakeholder engagement, sustainable business models
Management control systems, performance (e.g. cultural, entertainment and sport industries, digital companies, traditional companies, SMEs)
Business (e)valuation, business evaluation, business networks (e.g. cultural, entertainment and sports industries; digital and web companies; traditional companies, web vs. traditional organisations)
Sports, entertainment and cultural industries, sport law
Intellectual property rights, e-branding, innovations
ICTs in cultural institutions and tourism companies
Cultural heritage, digital culture, e-tourism
e-Books, digital libraries, e-entertainment, info-cultural-tainment
Networks, social network analysis, social media
More on this journal...
Objectives
The main aims of IJDCET are to:
illustrate the impact of digital technologies on enhancing the cultural and/or tourist experience, due to the digital evolution of consumer culture.
outline business opportunities and new business models of digital technology adoption for organisations, focusing on cultural institutions (e.g. museums, schools, universities, libraries, churches, television, print media) and tourist companies (e.g. accommodation companies, travel agencies, tour operators, transport companies).
Readership
Academics, researchers, business consultants, business engineers, cultural institutions managers, tourist companies managers. Online libraries supplying students, academics and researchers.
Contents
IJDCET publishes original research papers, literature reviews, conceptual papers, reports, case studies, book reviews and practitioner observations about innovative ideas, providing significant results and reviews regarding the topics of the journal. Short communications will also be considered, and should be marked as such when submitting. Special Issues devoted to important topics will be published occasionally.
Editor in Chief
Catuogno, Simona, Università degli Studi di Napoli Federico II, Italy
(simona.catuognounina.it)
Associate Editors
Mancini, Daniela, University of Teramo, Italy
Matera, Pierluigi, Link Campus University, Italy
Assistant Editor
Principale, Salvatore, University of Rome "La Sapienza", Italy
Regional Editor
Comuzzi, Eugenio, University of Udine, Italy
Editorial Board Members
Aureli, Selena, University of Bologna, Italy
Bechter, Clemens, Thammasat University, Thailand
Belyaeva, Zhanna S., Ural Federal University, Russian Federation
Blomkvist, Marita, University of Gothenburg, Sweden
Caputo, Andrea, University of Trento, Italy and University of Lincoln, UK
Cardoni, Andrea, University of Perugia, Italy
Del Vecchio, Pasquale, University of Salento, Italy
Dicuonzo, Grazia, University of Bari Aldo Moro, Italy
Dominici, Gandolfo, Business Systems Laboratory and University of Palermo, Italy
Mohd. Noor, Faridah Noor, University of Malaya, Malaysia
Pérez, Albert Pol Miró, University of Vic, Spain
Rodríguez Bolívar, Manuel Pedro, University of Granada, Spain
Sabelfeld, Svetlana, University of Gothenburg, Sweden
Shams, Riad, Northumbria University, UK
Siggia, Dario, European Parliament, Belgium
Stokes, Peter, De Montfort University, UK
Tavana, Madjid, La Salle University, USA
Vallejo-Martos, Manuel Carlos, University of Jaén, Spain
Vrontis, Demetris, University of Nicosia, Cyprus
Weber, Yaakov, College of Management, Israel
Zarone, Vincenzo, University of Pisa, Italy
A few essentials for publishing in this journal
Submitted articles should not have been previously published or be currently under consideration for publication elsewhere.
Conference papers may only be submitted if the paper has been completely re-written (more details available here) and the author has cleared any necessary permissions with the copyright owner if it has been previously copyrighted.
Briefs and research notes are not published in this journal.
All our articles go through a double-blind review process.
All authors must declare they have read and agreed to the content of the submitted article. A full statement of our Ethical Guidelines for Authors (PDF) is available.
There are no charges for publishing with Inderscience, unless you require your article to be Open Access (OA). You can find more information on OA here.



Submission process

All articles for this journal must be submitted using our online submissions system.
View Author guidelines.