International Journal of Computational Intelligence Studies
This journal also publishes Open Access articles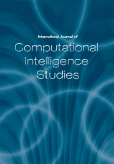 Editor in Chief

Prof. Paolo Crippa

ISSN online

1755-4985

ISSN print

1755-4977
4 issues per year

IJCIStudies focuses on experimental, theoretical and application aspects of computational intelligence. The main goal of the journal is to provide an international forum for all scientists and engineers engaged in research and development in the various fields of computational intelligence.
Topics covered include
Advanced theory of computational intelligence
Advanced biologically-inspired computational intelligence
Advanced computational intelligence in image processing
Computational intelligence in signal processing
Advanced evolutionary computation
Advanced distributed intelligent systems
Advanced neural systems and human-like agents
Advanced statistical learning theory
Computational intelligence in knowledge discovery
Related subjects
More on this journal...
Objectives
The objective of IJCIStudies is to report the most recent research in advanced computational intelligence paradigms, their foundations, theory and applications. Computational intelligence techniques have been successfully applied to solve problems in several fields of interest, such as biometrics, medical diagnosis, signal processing, etc. However, the potentialities of computational intelligence over traditional techniques have not been investigated adequately. The primary objective of IJCIStudies is to establish an effective communication channel between researchers involved in the computational intelligence area and developers who use traditional techniques to solve real-world problems, in order to create a worthwhile synergy. Particular emphasis is given to latest techniques in the fields of image processing, pattern recognition, and signal processing in general.
Readership
IJCIStudies will provide valuable help to researchers, professionals, professors, students and all those interested in computational intelligence.
Contents
IJCIStudies publishes research papers and other related scientific news related to computational intelligence. Special issues will be published occasionally
Editor in Chief
Crippa, Paolo, Università Politecnica delle Marche, Italy
(p.crippaunivpm.it)
Associate Editors
Al-Jumaily, Adel, Universiti Teknologi Brunei, Brunei Darussalam
Mansour, Ali, ENSTA Bretagne, France
Phillips-Wren, Gloria, Loyola University Maryland, USA
Rong, Yue, Curtin University, Australia
Editorial Board Members
Abe, Akinori, Chiba University, Japan
Apolloni, Bruno, Università degli Studi di Milano, Italy
Camastra, Francesco, Università degli Studi di Napoli Parthenope, Italy
Capretz, Luiz Fernando, University of Western Ontario, Canada
Caro, Jaime, University of the Philippines Diliman, Philippines
Corchado Rodriguez, Emilio S., University of Burgos, Spain
Deep, Kusum, Indian Institute of Technology Roorkee, India
Fiori, Simone G. O., Università Politecnica delle Marche, Italy
Ghose, Debasish, Indian Institute of Science, India
Godoy, Daniela, Universidad Nacional del Centro de la Provincia de Buenos Aires, Argentina
Hong, Wei-Chiang, Jiangsu Normal University, China
Hussain, Amir, University of Stirling, UK
Karny, Miroslav, Academy of Sciences of the Czech Republic, Czech Republic
Lanyi, Cecilia Sik, University of Pannonia, Hungary
Liu, Honghai, University of Portsmouth, UK
Malchiodi, Dario, Università degli Studi di Milano, Italy
Mumford, C.L., Cardiff University, UK
Niskanen, Vesa A., University of Helsinki, Finland
Panayiotopoulos, Themis, University of Piraeus, Greece
Qiu, Jianbin, Harbin Institute of Technology, China
Rakus-Andersson, Elisabeth, Blekinge Institute of Technology, Sweden
Resconi, Germano, Università Cattolica del Sacro Cuore, Italy
Srinivasan, Dipti, National University of Singapore, Singapore
Tagliaferri, Roberto, Università di Salerno, Italy
Tounsi, Mohamed, Prince Sultan University, Saudi Arabia
Tourassi, Georgia D., Duke University Medical Center, USA
Virvou, Maria, University of Piraeus, Greece
Watanabe, Toyohide, Nagoya Industrial Science Research Institute, Japan
A few essentials for publishing in this journal
Submitted articles should not have been previously published or be currently under consideration for publication elsewhere.
Conference papers may only be submitted if the paper has been completely re-written (more details available here) and the author has cleared any necessary permissions with the copyright owner if it has been previously copyrighted.
Briefs and research notes are not published in this journal.
All our articles go through a double-blind review process.
All authors must declare they have read and agreed to the content of the submitted article. A full statement of our Ethical Guidelines for Authors (PDF) is available.
There are no charges for publishing with Inderscience, unless you require your article to be Open Access (OA). You can find more information on OA here.



Submission process

All articles for this journal must be submitted using our online submissions system.
View Author guidelines.