International Journal of Critical Infrastructures
This journal also publishes Open Access articles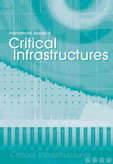 Editor

Prof. Dr. Adrian V. Gheorghe

ISSN online

1741-8038

ISSN print

1475-3219
6 issues per year


Impact factor (Clarivate Analytics) 2023

0.6 (5 Year Impact Factor 0.8)
JCI 0.19

CiteScore

2.3 (2022)

IJCIS provides a professional and scholarly forum for cross-learning between different scientific and technological disciplines, and between business and economic, as well as between societal and managerial, disciplines in the area of critical infrastructures. Critical infrastructures are networks for the provision of telecommunication and information services, energy services (electrical power, natural gas, oil and heat), water supply, transportation of people and goods, banking and financial services, government services and emergency services.
Topics covered include
Critical infrastructure (CI) design,/protection/management
Emerging systemic risks: policy, standards and regulations
Institutional design, market structuring, network regulation
Risk/vulnerability/resilience based decision-making
Risk/vulnerability criteria development for assessing robustness
Governance models/policy instruments in liberalised markets
System dynamic behaviour
Vulnerability/resilience economics; behaviour of interdependent CIs
Cyber security and CI protection
Stakeholder interactions and trust building
Advanced control engineering concepts/ICTs in complex networks
Cross-border interconnections, international harmonisation
Global CIs; geopolitical risk assessment
Threat identification/assessment/monitoring models/techniques
Next generation intelligent infrastructures
More on this journal...
Objectives
IJCIS aims to provide an authoritative source of information and an unique international forum in the field of Risk and Vulnerability Assessment and Management of Vital Societal Systems exposed to antropogenic and natural threats. It intends to establish channels of communication and to disseminate the best practice, knowledge and state of the art science, and stakeholders involvement between policy makers, practitioners, researchers and academia working in the field.
Readership
Professionals, academics, researchers and policy makers.
Contents
IJCIS publishes: original papers, review papers; case studies; conference reports; briefs and reports and news; book review and notes. To encourage young students, at undergraduate and graduate levels, the Student Section will be open for the first time as a platform for the future specialists to promote new and fresh ideas and projects into the internationally reviewed literature. Commentaries on papers and reports published in the Journal are encouraged. Special Issues devoted to important topics in risk assessment and vulnerability management of vital systems/ critical infrastructures and related topics, will be published occasionally.
Editor
Gheorghe, Adrian V., Old Dominion University, USA
(agheorghodu.edu)
African Editor
Katina, Polinpapiliñho F., University of South Carolina Upstate, USA
Editors At Large
Bologna, Sandro, Italian Association of Critical Infrastructures' Experts (AIIC), Italy
Kröger, Wolfgang, Swiss Federal Institute of Technology, Switzerland
European Editor
Weijnen, Margot P.C., Delft University of Technology, Netherlands
North American Editor
Mili, Lamine, Virginia Polytechnic Institute and State University, USA
Editorial Board Members
Alcaraz, Cristina, University of Malaga, Spain
Barbarosoglu, Gülay, Boğaziçi Üniversitesi, Turkey
Boustras, George, European University Cyprus, Cyprus
Bucovetchi, Olga, Politehnica University of Bucharest, Romania
Doerig, Adolf J., Doerig + Partner AG, Switzerland
Erkut, Erhan, University of Alberta, Canada
Ezell, Barry Charles, Old Dominion University, USA
Filip, Florin, Romanian Academy of Sciences (Academia Romana), Romania
Herder, Paulien M., Delft University of Technology, Netherlands
Horii, Hideyuki, University of Tokyo, Japan
Little, Richard, National Academy of Sciences, USA
Mock, Ralf, Zurich University of Applied Sciences, Switzerland
Papazoglou, Ioannis A., National Centre for Scientific Research 'DEMOKRITOS', Greece
Phadke, Arun G., Virginia Polytechnic Institute and State University, USA
Pulfer, Roland, Action4Value GmbH, Germany
Quintanilha, Alexandre, University of Porto, Portugal
Shi, Peijun, Beijing Normal University, China
Timashev, Sviatoslav A., Russian Academy of Sciences and Ural Federal University, Russian Federation
Vamanu, Dan, 'Horia Hulubei' National Institute of Physics and Nuclear Engineering, Romania
Varnado, Samuel G., Sandia National Laboratories, USA
Wang, Ming, IHDP-Integrated Risk Governance Project, China
Zimmerman, Rae, New York University, USA
A few essentials for publishing in this journal
Submitted articles should not have been previously published or be currently under consideration for publication elsewhere.
Conference papers may only be submitted if the paper has been completely re-written (more details available here) and the author has cleared any necessary permissions with the copyright owner if it has been previously copyrighted.
Briefs and research notes are not published in this journal.
All our articles go through a double-blind review process.
All authors must declare they have read and agreed to the content of the submitted article. A full statement of our Ethical Guidelines for Authors (PDF) is available.
There are no charges for publishing with Inderscience, unless you require your article to be Open Access (OA). You can find more information on OA here.



Submission process

All articles for this journal must be submitted using our online submissions system.
View Author guidelines.
Journal news
Understanding cyberthreats in IoT networks
19 September, 2023
Cyberattacks are a major problem for all kinds of organizations with the potential to compromise e-commerce, government, and healthcare. Research in the International Journal of Critical Infrastructures, highlights how Internet of Things (IoT) devices, which are not necessarily as well protected as conventional computers in terms of firewalls, antivirus, and malware protection, can represent an important vulnerability in a system. Such threats extend beyond potential financial loss where they can disrupt infrastructure, government, and even threaten human lives, particularly in healthcare facilities. Taofeek Mobolarinwa Balogun, and Hayretdin Bahsi of Tallinn University of Technology in Tallinn, Estonia, and Omer F. Keskin and Unal Tatar of the University at Albany, State University of New York, USA offer a comparative framework for modelling the threat of cyber attack on IoT devices and networks [...]
More details...