International Journal of Computers in Healthcare
This journal also publishes Open Access articles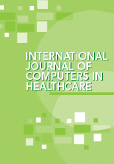 Editor in Chief

Associate Prof. Ping Wang

ISSN online

1755-3202

ISSN print

1755-3199
4 issues per year

IJCIH is a fully-refereed international journal publishing original articles concerning the theory and application of the computer to biomedicine and healthcare, with emphasis on novel approaches of wide healthcare significance.
Topics covered include
Innovative paradigms and applications of computers in biomedicine and healthcare
Knowledge-based systems in biomedicine and healthcare
Artificial intelligence and computational intelligence paradigms in biomedicine and healthcare
More on this journal...
Objectives
The main aim of IJCIH is to provide an international forum for exchanging results of original research ideas and concepts in both computer science and artificial intelligence techniques in biomedicine and healthcare. IJCIH focuses on articles that report novel approaches of wide healthcare significance in the areas of decision support systems, medical diagnosis, data mining, e-Health, knowledge management, information retrieval and text mining.
Readership
IJCIH provides a vehicle to help professionals, academics and researchers in medical informatics and healthcare to disseminate the latest application of computer science and artificial intelligence techniques in biomedicine and healthcare.
Contents
IJCIH publishes original research papers, case studies and commentaries with specific emphasis on the use of computer science and artificial intelligence as means to improve healthcare. Special issues of the journal may occasionally be published.
Honorary Editors
Krasheninnikov, Victor, Ulyanovsk State Technical University, Russian Federation
Mulvenna, Maurice, University of Ulster, UK
Silverman, Barry G., University of Pennsylvania, USA
Editor in Chief
Wang, Ping, James Madison University, USA
(wangpxjmu.edu)
Associate Editors
Belciug, Smaranda, University of Craiova, Romania
Dey, Nilanjan, Techno India College of Technology, India
Rovetta, Stefano, University of Genova, Italy
Shi, Fuqian, Wenzhou Medical University, China
Advisory Board
Brooks, Anthony, Aalborg University, Denmark
Obukhova, Natalia, St. Petersburg State Electrotechnical University, Russian Federation
Editorial Board Members
Bianchini, Monica, Università degli Studi Di Siena, Italy
Bichindaritz, Isabelle, University of Washington, Tacoma, USA
Cerrito, Patricia B., University of Louisville, USA
Combi, Carlo, Universitá degli Studi di Verona, Italy
Goto, Tomio, Nagoya Institute of Technology, Japan
Hongsermeier, Tonya, Partners Healthcare, USA
Jenders, Robert A., National Institutes of Health and Georgetown University, USA
Koczkodaj, Waldemar W., Laurentian University, Canada
Kook, Cho, Dong-A University, South Korea
Kumar, Vinod, Indian Institute of Technology, Roorkee, India
Maojo, Victor, Universidad Politécnica de Madrid, Spain
Markey, Mia K., University of Texas, USA
Murphy, Shawn, Partners Healthcare System, Inc, USA
Nagashino, Hirofumi, University of Tokushima, Japan
Peleg, Mor, University of Haifa, Israel
Qiao, Xu, Shandong University, China
Rakus-Andersson, Elisabeth, Blekinge Institute of Technology, Sweden
Saha, Asit K., Central State University , USA
Smith, Stephen L., The University of York, UK
Tedman, Raymond, Griffith University, Australia
Tsumoto, Shusaku, Shimane University, Japan
Uchino, Eiji, Yamaguchi University , Japan
Yoshida, Hiro, Harvard Medical School, USA
Zhang, Daqing, Institut TELECOM, France
Zheng, Huiru (Jane), University of Ulster, UK
A few essentials for publishing in this journal
Submitted articles should not have been previously published or be currently under consideration for publication elsewhere.
Conference papers may only be submitted if the paper has been completely re-written (more details available here) and the author has cleared any necessary permissions with the copyright owner if it has been previously copyrighted.
Briefs and research notes are not published in this journal.
All our articles go through a double-blind review process.
All authors must declare they have read and agreed to the content of the submitted article. A full statement of our Ethical Guidelines for Authors (PDF) is available.
There are no charges for publishing with Inderscience, unless you require your article to be Open Access (OA). You can find more information on OA here.



Submission process

All articles for this journal must be submitted using our online submissions system.
View Author guidelines.