International Journal of Computational Biology and Drug Design
This journal also publishes Open Access articles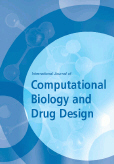 Editor in Chief

Dr. Zhongming Zhao

ISSN online

1756-0764

ISSN print

1756-0756
6 issues per year


CiteScore

0.9 (2022)

IJCBDD, an International Society of Intelligent Biological Medicine official journal, bridges the gap between two very important, complementary disciplines, computational biology and drug design. Through advances in high-throughput genome sequencing and digital imaging technologies, biocomputing, drug design and medical research have unfolded new, predictive sciences such as genomics, proteomics, lipidomics, metabolomics, cytomics and pharmaconomics. These promote new computational, statistical and biomedical approaches to drug design/development, besides unleashing the potential of significantly more accurate, effective personalised diagnosis, therapeutics and patient care.
Topics covered include
Big data analysis and tools for biological and medical data
Drug screening, drug discovery, drug design and re-purposing
Biomolecular dynamics, biomolecular/phylogenetic databases
Cellular signalling/communications, cell engineering, molecular/cellular systems
Computational epigenetics and functional genomics
Computational approaches in virus omics and drug targets
Machine learning, deep learning, data mining and knowledge discovery
Metabolomics, microbiomes and lipidomics
Modelling, simulation and optimisation of biological systems
Non-coding RNAs and regulation
Medical informatics and translational informatics
Cohort discovery, EHR-based phenotyping, predictive modelling
Proteomics, structural biology, molecular simulation and evolution
Single cell sequencing methods and analysis
Software, tools, databases and web servers for computational biology
More on this journal...
Objectives
The objectives of IJCBDD are to promote dialogue among researchers from multiple disciplines and the advancement of innovative biotechnology, biological, medical and pharmaceutical sciences. The journal also seeks to establish an effective communication channel between government agencies and academic and research institutions.
Readership
The audience of IJCBDD consists of scientists, researchers, medical and pharmaceutical practitioners, academics, graduate students, professionals and engineers working and interested in learning about new trends in computational biology and drug design.
Contents
IJCBDD publishes original papers, application papers, review papers, technical reports, case studies, conference reports, management reports, book reviews, notes, commentaries, and news. Special Issues devoted to important research topics and major international conferences in the fields will occasionally be published
Editor in Chief
Zhao, Zhongming, University of Texas Health Science Center at Houston, USA
(zhongming.zhaouth.tmc.edu)
Editor
Xia, Junfeng, Anhui University, China
Consulting Editors
Altman, Russ B., Stanford University, USA
Athey, Brian D., University of Michigan Medical School, USA
Bajcsy, Ruzena, University of Pennsylvania, USA
Dunker, A. Keith, Indiana University-Purdue University Indianapolis, USA
Li, Lang, The Ohio State University, USA
Niemierko, Andrzej, Harvard Medical School and Massachusetts General Hospital, USA
Xu, Dong, University of Missouri, USA
Editorial Board Members
Ancukiewicz, Marek, Harvard Medical School and Massachusetts General Hospital, USA
Bai, Yongsheng, Indiana State University, USA
Chen, Yu Zong, National University of Singapore, Singapore
Ewing, Rob M., Case Western Reserve University, USA
Feng, Hao (Harry), Case Western Reserve University, USA
Gaur, Loveleen, Taylor's University, Malaysia
Ghosh, Joydeep, University of Texas Austin, USA
Guo, Yan, University of New Mexico, USA
Honavar, Vasant, Iowa State University, USA
Jain, Vishal, Bharati Vidyapeeth's Institute of Computer Applications and Management (BVICAM), India
Jia, Peilin, University of Texas Health Science Center at Houston, USA
Korkin, Dmitry, University of Missouri, USA
Li, Aimin, Xi'an University of Technology, China
Liu, Zhandong, Baylor College of Medicine, USA
Pan, Yi, Georgia State University, USA
Qian, Jiang, Johns Hopkins University, USA
Ramanathan, K., Vellore Institute of Technology, India
Shang, Xuequn, Northwestern Polytechnical University, China
Wan, Jun, Indiana University, USA
Wei, Lei, Roswell Park Cancer Center, USA
Xie, Lei, City University of New York, USA
Zhang, Chi, Indiana University, USA
Zhang, Yongqing, Chengdu University of Information Technology, China
Zhao, Qi, Liaoning University, China
Zhao, Yichuan, Georgia State University, USA
Zheng, Huiru (Jane), University of Ulster, UK
Zhu, Michelle M., Montclair State University, USA
A few essentials for publishing in this journal
Submitted articles should not have been previously published or be currently under consideration for publication elsewhere.
Conference papers may only be submitted if the paper has been completely re-written (more details available here) and the author has cleared any necessary permissions with the copyright owner if it has been previously copyrighted.
Briefs and research notes are not published in this journal.
All our articles go through a double-blind review process.
All authors must declare they have read and agreed to the content of the submitted article. A full statement of our Ethical Guidelines for Authors (PDF) is available.
There are no charges for publishing with Inderscience, unless you require your article to be Open Access (OA). You can find more information on OA here.



Submission process

All articles for this journal must be submitted using our online submissions system.
View Author guidelines.