International Journal of Critical Accounting
This journal also publishes Open Access articles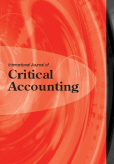 Co-Editors

Prof. Aida Sy, Prof. Tony Tinker

ISSN online

1757-9856

ISSN print

1757-9848
4 issues per year

IJCA is a peer-reviewed international journal publishing high quality, original manuscripts concerned with critical accounting and related issues. Contributions can be of a theoretical or empirical nature. IJCA targets scholars from both academia and the professional accounting community. Papers examine emerging trends in critical accounting and fast-changing concerns faced by corporations, government and regulators from a comprehensive range of areas.
Topics covered include
Auditing (and the subprime crisis)
Backdating and stock options
The political economy of accounting
Accounting's implications in the exercise of power
Accounting's role in international capital markets
Reporting - impact on stock market instabilities
Accounting/auditing and money laundering
Regulation of national and international banking
Management accounting and the organisation of the labour process
The accountability of government functions
Accounting (history) as social memory
Accounting and democracy in the workplace
Accounting's adjudicative function in international relations (e.g. Third World debt)
Accounting for gender and class conflicts
More on this journal...
Objectives
The principal object of IJCA is to provide an international forum for academicians and professionals in the field of critical accounting to allow them to disseminate their research, study ideas, thoughts and empirical findings to the critical accounting community.
Readership
The readership of IJCA consists of academic institution professors, researchers, graduate students, accounting professionals and business executives.
Contents
IJCA publishes paper submissions to the editor, and papers arising from special issues (for instance, focusing on a current topic, and/or on the exposition of particular national traditions or practices) and conferences.
Co-Editors
Sy, Aida, Farmingdale State College, USA
(aida.sy1776gmail.com)
Tinker, Tony, Baruch College at the City University of New York, USA
(tony.tinkergmail.com)
Editorial Board Members
Aladeem, Khalid, King Saud University, Saudi Arabia
Armstrong, Peter, University of Leicester, UK
Aronowitz, Stanley, City University of New York, USA
Arrington, Edward, North Carolina at Greensboro, USA
Bishop, Mary, University of West of England, UK
Bricard, Agnes, Cabinet ABC Audit Bilan Conseil, France
Briggs, Susan, University of South Australia, Australia
Briloff, Abe, Baruch College at the City University of New York, USA
Cahaya, Fitra Roman, Universitas Islam Indonesia, Indonesia
Crowther, David, De Montfort University, UK
Degos, Jean-Guy, Montesquieu University, France
Elad, Charles, University of Westminster, UK
Faugère, Christophe, BEM - Bordeaux School of Management, France
Freedman, Martin, Towson University, USA
Fujita, Masaya, Kyushu University, Japan
Gaffikin, Michael, University of Wollongong, Australia
Gangolly, Jagdish, SUNY at Albany, USA
Ghodbane, Sana Ben, Tunisia University of Carthage, Tunisia
Graves, Finlay O., University of North Texas, USA
Gray, Robert Hugh, University of St Andrews, UK
Gros, Marius, Hochschule Niederrhein, Germany
Haas, Jerome, Autorité des Normes Comptables, France
Huber, Wm. Dennis, Capella University, USA
Jupe, Robert, University of Kent, UK
Kasum, Abubakar S,, University of Ilorin, Nigeria
Mahoney, Lois S., Eastern Michigan University, USA
Martin, Randy, New York University, USA
Matis, Dumitru, Babes-Bolyai University, Romania
Mattessich, Richard, University of British Columbia, Canada
Mickhail, George, University of Wollongong, Australia
Ngwakwe, Collins C., University of Limpopo, South Africa
Oakes, Helen, Keele University, UK
Ollman, Bertell, New York University, USA
Paine, Edison Fredy Leon, Universidad Libre de Colombia, Colombia
Pekdemir, Recep, Istanbul University, Turkey
Riotto, Joseph, New Jersey City University, USA
Rivera, Adriana, Universidad Del Valle, Colombia
Rivera Vicencio, Eduardo, Universitat Autònoma de Barcelona, Spain
Shahin, Ibrahim O., Helwan University, Egypt
Sharma, Umesh, University of Waikato, New Zealand
Solas, Cigdem, Ticaret University, Turkey
Sutton, Steve G., University of Melbourne, Australia and University of Central Florida, USA
Thorne, Kym, University of South Australia, Australia
Vadra, Ratna, Institute of Management Technology, India
Vasarhelyi, Miklos, Rutgers, The State University of New Jersey, USA
Worthington, Frank, University of Liverpool , UK
Yannick, Fronda, Telecom & Management SudParis, France
Young, Antony, RMIT University, Australia
Yui, Toshinori, Kurume University, Japan
A few essentials for publishing in this journal
Submitted articles should not have been previously published or be currently under consideration for publication elsewhere.
Conference papers may only be submitted if the paper has been completely re-written (more details available here) and the author has cleared any necessary permissions with the copyright owner if it has been previously copyrighted.
Briefs and research notes are not published in this journal.
All our articles go through a double-blind review process.
All authors must declare they have read and agreed to the content of the submitted article. A full statement of our Ethical Guidelines for Authors (PDF) is available.
There are no charges for publishing with Inderscience, unless you require your article to be Open Access (OA). You can find more information on OA here.



Submission process

All articles for this journal must be submitted using our online submissions system.
View Author guidelines.