International Journal of Business and Globalisation
An Open Access-only journal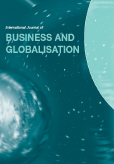 Editor in Chief

Prof. Leo Paul Dana

ISSN online

1753-3635

ISSN print

1753-3627
12 issues per year


CiteScore

0.6 (2022)

IJBG proposes and fosters discussion on various aspects of business and globalisation, including the physical environment and poverty.
IJBG is an Open Access-only journal and article processing charges (APCs) apply.
Topics covered include
Globalisation and environmental degradation
Globalisation and poverty
Human mobility in a globalised world
Competition in a global economy
Indigenous enterprises and the global economy
Globalisation of SMEs
More on this journal...
Objectives
The objectives of IJBG are to establish an effective channel of communication between policy makers, government agencies, academic and research institutions and persons concerned with the complex role of business and globalisation. The international dimension is emphasised in order to overcome cultural and national barriers and to meet the needs of accelerating technological and ecological change and changes in the global economy.
Readership
IJBG provides a vehicle to help academics, researchers, policy makers, managers and entrepreneurs, working in business, to disseminate information and to learn from each other's work.
Contents
IJBG publishes original empirical research, conceptual papers, and book reviews.
Editor in Chief
Dana, Leo Paul, Dalhousie University, Canada
(lp762359dal.ca)
Associate Editors
Carneiro-da-Cunha, Julio, Nove de Julho University, Brazil
Rezaei, Shahamak, Roskilde University, Denmark
Regional Editor Asia
Misra, Subhas C., IIT Kanpur, India
Regional Editor Europe
Lasch, Frank, Groupe Sup de Co Montpellier Business School, France
Editorial Board Members
Alon, Ilan, Ariel University, Israel
Anderson, Robert B., University of Regina, Canada
Boffa, Danilo, University of Teramo, Italy
Chand, Anand, University of the South Pacific, Fiji
Chew, Soon Beng, Nanyang Technological University, Singapore
Cook, Steve, Oregon State University, USA
Dabic, Marina, Nottingham Trent University, UK and University of Zagreb, Croatia
Daskalaki, Eirini, ACC Akademia College, Cyprus
Datta, Saroj Kumar, Galgotias University , India
Donia, Enrica, University of Palermo , Italy
Elo, Maria, University of Southern Denmark, Denmark
Erkol Bayram, Gül, Sinop University, Turkey
Esposito, Paolo, Eastern Pidmont University, Italy
Gaddefors, Johan, University of Gavle, Sweden
Gera, Navneet, Jagannath International Management School Kalkaji, India
Guieu, Gilles, Aix-Marseille Université, France
Hall, C. Michael, University of Canterbury, New Zealand
Heikkinen, Hannu I., University of Oulu, Finland
Heilbrunn, Sibylle, Kinneret Academic College on the Sea of Galilee, Israel
Hou, Xue, China Center for Information and Industry Development, China
Jabłoński, Marek, University of Dąbrowa Górnicza, Poland
Jafari-Sadeghi, Vahid, Aston University, UK
Jaganjac, Jamila, University of Vitez, Bosnia and Herzegovina
Karatas-Ozkan, Mine, University of Southampton, UK
Krueger, Jr, Norris, Entrepreneurship Northwest, USA
Litvin, Stephen W., College of Charleston, USA
Märk, Stefan, Salzburg University of Applied Sciences, Austria
Maksüdünov, Azamat, Kyrgyz-Turkish Manas University, Kyrgyzstan
Mason, Michela C., University of Udine, Italy
Mason, Nicholas, University of Canterbury, New Zealand
Matlay, Harry, University of the West of Scotland, UK
McElwee, Gerard, University of Huddersfield, UK
McIntyre, John R., Georgia Institute of Technology, USA
Meron, Orly C., Bar-Ilan University, Israel
Missens, Richard, First Nations University, Canada
Musso, Domenico, Pontificia Università Lateranense, Italy
Obrecht, Jean-Jacques, Université se Strasbourg, France
Ohkita, Kenichi, Aichi University, Japan
Omrane, Amina, University of Sfax and IHEC Carthage, Tunisia
Paranque, Bernard, Kedge Business School, France
Peris Ortiz, Marta, Universidad Politècnica de Valencia, Spain
Pillania, Rajesh K., Management Development Institute Gurgaon, India
Polke, Jürgen, University of Applied Sciences Vorarlberg, Austria
Prestamburgo, Sonia, University of Trieste, Italy
Pullar, Gordon L., University of Alaska Fairbanks, USA
Ramadani, Veland, South-East European University, North Macedonia
Ratten, Vanessa, La Trobe University, Australia
Riseth, Jan Age, Norut Social Science Research, Norway
Rossi, Matteo, University of Sannio, Italy
Roy, Achinto, Deakin University, Australia
Salamzadeh, Aidin, University of Tehran, Iran
Sandberg, Susanne, Linnaeus University, Sweden
Sangle, Shirish, National Institute of Industrial Engineering (NITIE), India
Schaper, Michael, Bond University, Australia
Sgroi, Filippo, University of Palermo, Italy
Singh, Sandeep, Punjabi University, Patiala, India
Troise, Ciro, University of Turin, Italy
Unruh, John, University of Alaska, USA
Vitolla, Filippo, LUM Jean Monnet University, Italy
Walters, Craig, Tipperary Institute, Ireland
A few essentials for publishing in this journal
Submitted articles should not have been previously published or be currently under consideration for publication elsewhere.
Conference papers may only be submitted if the paper has been completely re-written (more details available here) and the author has cleared any necessary permissions with the copyright owner if it has been previously copyrighted.
Briefs, research notes and case studies are not published in this journal.
All articles must be written in English, using UK spelling and terminology. If English is not your first language, please ask an English-speaking colleague to proofread your article.
All our articles go through a double-blind review process.
All authors must declare they have read and agreed to the content of the submitted article. A full statement of our Ethical Guidelines for Authors (PDF) is available.
There are no charges for publishing with Inderscience, unless you require your article to be Open Access (OA). You can find moreinformation on OA here.



Submission process

All articles for this journal must be submitted using our online submissions system.
View Author guidelines.
Journal news
In debt to fashion
6 June, 2023
Komal Malik and Manoj Joshi of the Amity Business School at Amity University Uttar Pradesh, Lucknow Campus, used an experiential research design to survey and capture non-rational behaviour shopping behaviour among Indian consumers. "Non-rationality can be referred as the influence of emotional factors rather than tangible gains and losses associated with a choice," the authors write. In addition, in their paper in the International Journal of Business and Globalisation, they reviewed the existing literature to provide context. The team's analysis considered factors such as brand loyalty, gift and special occasion purchases, social affinity, lifestyle choice, the feel-good factor, offers and discounts, changing fashion, personality [...]
More details...
International Journal of Business and Globalisation is now an open access-only journal
1 March, 2023
We are pleased to announce that the International Journal of Business and Globalisation is now an Open Access-only journal. All accepted articles submitted from March 2023 onwards will be Open Access, and will require an article processing charge of US $1500.