International Journal of Business Forecasting and Marketing Intelligence
This journal also publishes Open Access articles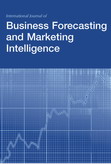 Editor in Chief

Prof. Angappa Gunasekaran

ISSN online

1744-6643

ISSN print

1744-6635
4 issues per year

Efficient integration of mathematical techniques and marketing intelligence is of crucial importance for a successful business forecasting process. IJBFMI, a fully refereed journal, publishes articles that link current practice and theory in the business forecasting field. This includes new forecasting domains (e.g. rule-based forecasting, fuzzy logic forecasting, spline regression forecasting, etc.) and the growing area of business/marketing intelligence involving environmental scanning, "brain" monitoring, innovative intelligence methodologies, coopetition, strategic decision support systems, etc.
Topics covered include
Business forecasting process, principles and competitions
Time series forecasting methods
Marketing intelligence
Judgmental and new products forecasting
Forecasting for the supply chain and in business
Biases of the forecasting manager
Seasonal and weather adjustments
Adjusting for special events (promotions, strikes)
Financial and budget forecasting
Marketing forecasting, forecasting software, e-forecasting
More on this journal...
Objectives
IJBFMI aims to further the development of the field of business forecasting and marketing intelligence as well as related disciplines. A particular goal is to connect the research done by academics and professionals via publishing successful business forecasting case studies. IJBFMI focuses on professionals working in the field and as to how they integrate state-of-the art forecasting techniques and marketing intelligence. One of the key objectives of IJBFMI is also the efficient design, development and use of Forecasting Support Systems.
Readership
Professionals, practitioners, academics, researchers and managers in the field of business and industrial forecasting.
Contents
IJBFMI publishes original and review papers, theory-based empirical papers, case studies with profound implications for theory, outstanding paradigms of successful applied business forecasting, conference reports, relevant business forecasting and marketing intelligence reports, book reviews, commentaries and research notes. Special issues devoted to important topics in business forecasting and marketing intelligence, and related topics, will be published occasionally. Contribution may be by submission or invitation.
Editor in Chief
Gunasekaran, Angappa, Penn State Harrisburg, USA
(an.gunasekarangmail.com)
Associate Editors
Islam, Mazhar M., Florida A&M University, USA
Mujtaba, Bahaudin G., Nova Southeastern University, USA
Senapati, Manas Ranjan, Centurion University of Technology and Management, India
Editorial Board Members
Al-Mubaraki, Hanadi Mubarak, Kuwait University, Kuwait
Andaleeb, Syed Saad, Penn State Erie, The Behrend College, USA
Andreaopoulos, Giuliana C., William Paterson University, USA
Attia, Ashraf M., State University of New York at Oswego, USA
Bin Ismail, Abdul Ghafar, National University of Malaysia, Malaysia
Daim, Tugrul U., Portland State University, USA
Etienne, Eisenhower, Florida A&M University, USA
Hammoudeh, Shawkat, Drexel University, USA
Harahap, Sofyan S., Trisakti University, Indonesia
Huuhka, Ari, University of Vaasa, Finland
Jamal, Ahmad, Cardiff University, UK
Jha, Vindhu Shekhar, International Management Institute, India
Kabir, Muhammed, University of New Brunswick, Canada
Karunaratne, Neil Dias, University of Queensland, Australia
Lee, Jungki, Korea University, USA
Ng, Alex, University of Northern British Columbia, Canada
Nwakanma, Hudson, Florida A & M University, USA
Rinehart, Shelley M., University of New Brunswick Saint John, Canada
A few essentials for publishing in this journal
Submitted articles should not have been previously published or be currently under consideration for publication elsewhere.
Conference papers may only be submitted if the paper has been completely re-written (more details available here) and the author has cleared any necessary permissions with the copyright owner if it has been previously copyrighted.
Briefs and research notes are not published in this journal.
All our articles go through a double-blind review process.
All authors must declare they have read and agreed to the content of the submitted article. A full statement of our Ethical Guidelines for Authors (PDF) is available.
There are no charges for publishing with Inderscience, unless you require your article to be Open Access (OA). You can find more information on OA here.



Submission process

All articles for this journal must be submitted using our online submissions system.
View Author guidelines.
Journal news
Moving out of the pandemic shadows
7 July, 2023
A study in the International Journal of Business Forecasting and Marketing Intelligence, reveals the financial challenges faced by urban Indian consumers during the COVID-19 pandemic. The work then offers strategies that individuals might use to help them cope with the complexities of the post-pandemic world with greater resilience and mental well-being. The COVID-19 pandemic which began in China in 2019 ravaged humanity, leaving many dead in its wake, many more grieving, and countless suffereing the health consequences in the form of long-covid. Moreover, while the World Health Organisation no longer considers the world in a pandemic situation, there remain many hospitaliations and deaths caused by the SARS-CoV-2 pathogen and many vulnerable people remain at serious risk of debilitating or lethal infection. Meenakshi Handa and Swati Jain of the University School of Management Studies at Guru Gobind Singh Indraprastha University in New Delhi, India, have focused on the economic impact of the pandemic and the subsequent effects on mental health among urban Indian consumers. The team carried out a a qualitative research study seeking to understand the experiences of adults aged between 18 and 39 years during the pandemic through open-ended questioning in an online survey [...]
More details...