International Journal of Biomedical Engineering and Technology
This journal also publishes Open Access articles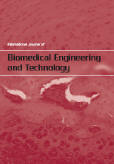 Editor in Chief

Prof. Yaodong Gu

ISSN online

1752-6426

ISSN print

1752-6418
12 issues per year


Impact factor (Clarivate Analytics) 2023

1.1 (5 Year Impact Factor 1.2)
JCI 0.24

CiteScore

1.9 (2022)

IJBET addresses cutting-edge research in the multi-disciplinary area of biomedical engineering and technology. Medical science incorporates scientific/technological advances combining to produce more accurate diagnoses, effective treatments with fewer side effects, and improved ability to prevent disease and provide superior-quality healthcare. A key field here is biomedical engineering/technology, offering a synthesis of physical, chemical, mathematical and computational sciences combined with engineering principles to enhance R&D in biology, medicine, behaviour, and health. IJBET includes the Asia-Pacific Chapter in Biomedical Wireless Technology (APC-BWT).
Topics covered include
Artificial organs
Automated patient monitoring
Advanced therapeutic and surgical devices
Application of expert systems and AI to clinical decision making
Biomaterials design
Biomechanics of injury and wound healing
Blood chemistry sensors
Computer modelling of physiologic systems
Design of optimal clinical laboratories
Medical imaging systems
Sports medicine
More topics...
Artificial organs

hearing aids, cardiac pacemakers, artificial kidneys/hearts, blood oxygenators, synthetic blood vessels, joints, arms, legs.

Automated patient monitoring

during surgery or in intensive care, healthy persons in unusual environments, such as astronauts in space or underwater divers at great depth

Advanced therapeutic and surgical devices

laser system for eye surgery, automated delivery of insulin, etc.

Application of expert systems and artificial intelligence to clinical decision making

computer-based systems for diagnosing diseases

Biomaterials design

mechanical, transport and biocompatibility properties of implantable artificial materials

Biomechanics of injury and wound healing

gait analysis, application of growth factors, etc.

Blood chemistry sensors

potassium, sodium, O2, CO2, and pH

Computer modelling of physiologic systems

blood pressure control, renal function, visual and auditory nervous circuits, etc.

Design of optimal clinical laboratories

computerised analyzer for blood samples, cardiac catheterization laboratory, etc.)

Medical imaging systems

ultrasound, computer assisted tomography, magnetic resonance imaging, positron emission tomography, etc.

Sports medicine

rehabilitation, external support devices, etc.
More on this journal...
Objectives
The objectives of IJBET are to establish an effective channel of communication between researchers and practitioners, government agencies, academic and research institutions and persons concerned with the complex roles of biomedical engineering and technology. It also aims to promote and coordinate developments in the field from the laboratory bench to the patient's bedside. Healthcare is a global industry; the international dimension is therefore emphasised in order to facilitate the development of solutions that have a universal focus.
Readership
IJBET provides a vehicle to help professionals, academics, researchers and policy makers, working in the fields of medical technology, medicine, biology, physics, chemistry, computer science and engineering, to disseminate information and to learn from each other's work as well as to become aware of critical issues to facilitate the development of new procedures, or to conduct research needed to solve specific clinical problems
Contents
IJBET publishes original papers, review papers, technical reports, case studies, conference reports, management reports, book reviews, notes, commentaries, and news. Special Issues devoted to important topics in biomedical engineering and technology will occasionally be published.
In addition, an issue per year of IJBET will be devoted to papers from the Asia-Pacific Chapter in Biomedical Wireless Technology (APC-BWT). The APC-BWT Chapter actively encourages the publication of technical articles, applications, surveys and tutorials for IJBET. The Chapter publishes original contributions on biomedical wireless technology.
Editor in Chief
Gu, Yaodong, Ningbo University, China
(guyaodonghotmail.com)
Associate Editors
Ma, Xin, Fudan university, China
Shim, Vickie, University of Auckland, New Zealand
Regional Editor Middle East
Azar, Ahmad Taher, Prince Sultan University, Kingdom of Saudi Arabia and Benha University, Egypt
Editorial Board Members
Cerrolaza, M., Central University of Venezuela, Venezuela
González, Yomar, Universidad Central de Venezuela, Venezuela
Kaczmarek, Lukasz, Lodz University of Technology, Poland
Liang, Minjun, Ningbo University, China
Lin, Binshan, Louisiana State University in Shreveport, USA
Mody, Vicky, Appalachian College of Pharmacy, USA
Munivrana, Goran, University of Split, Croatia
Nugent, Christopher, University of Ulster, UK
Radák, Zsolt, University of Physical Education, Hungary
Ramos, Amador, University of Granada, Spain
Spanjers, Ronald, Catharina Hospital & Tilburg University, Netherlands
Ugbolue, Ukadike Chris, University of the West of Scotland, UK
Wang, Yan, Hong Kong Polytechnic University, Hong Kong SAR, China
Zheng, Jianjun, University of Chinese Academy of Sciences, China
A few essentials for publishing in this journal
Submitted articles should not have been previously published or be currently under consideration for publication elsewhere.
Conference papers may only be submitted if the paper has been completely re-written (more details available here) and the author has cleared any necessary permissions with the copyright owner if it has been previously copyrighted.
Briefs and research notes are not published in this journal.
All our articles go through a double-blind review process.
All authors must declare they have read and agreed to the content of the submitted article. A full statement of our Ethical Guidelines for Authors (PDF) is available.
There are no charges for publishing with Inderscience, unless you require your article to be Open Access (OA). You can find more information on OA here.



Submission process

All articles for this journal must be submitted using our online submissions system.
View Author guidelines.
Journal news
AI fuses CT and MRI scans for better diagnostics
27 June, 2023
Research in the International Journal of Biomedical Engineering and Technology shows how artificial intelligence (AI) can be used to fuse images from clinical X-ray computed tomography (CT) and magnetic resonance imaging scans. The method, known as the Dual-Branch Generative Adversarial Network (DBGAN), has the potential to allow a clearer and more clinically useful interpretation of CT and MRI scans to be carried out. Essentially, combining the hard, bone, structures of the CT scan with the soft tissue detail of the MRI image. The work could improve clinical diagnosis and enhance patient care for a wide range of conditions where such scans are commonly used but where each has limitations when used alone [...]
More details...
AI sees through biological sex using dental X-rays
28 June, 2023
Research in the International Journal of Biomedical Engineering and Technology, has made progress towards the development and training of an algorithm that can determine biological sex from dental X-rays with 94 percent accuracy. This application of what is referred to as a deep-learning method demonstrates the potential of such an approach to augmenting conventional evidence in an investigation. B. Vijayakumari, S. Vidhya, and J. Saranya of the Mepco Schlenk Engineering College in Sivakasi, Tamilnadu, India, explain how their algorithm comprises three components: image pre-processing, gradient-based recursive threshold (GBRT) segmentation, and classification [...]
More details...