International Journal of Business Continuity and Risk Management
This journal also publishes Open Access articles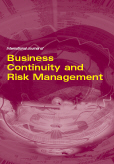 Editor in Chief

Prof. Kurt J. Engemann

ISSN online

1758-2172

ISSN print

1758-2164
4 issues per year


CiteScore

0.7 (2022)

IJBCRM is a refereed international journal that provides a professional and scholarly forum in the essential field of business continuity and risk management with particular emphasis on decision making using a multidisciplinary approach. Organisational resiliency through risk assessment, contingency planning, systems security, crisis and disaster management, and recovery planning, as well as public policy regarding infrastructure and security, are integrated in the journal's coverage.
Topics covered include
Professional practices of business continuity
Infrastructure crisis, public policy
Risk management, decision technology
Natural resources, environmental threats
Crisis leadership, organisational resiliency
Enterprise risk management
Crisis management information systems
Homeland security/organisational threats
Systems security for business resiliency
Crisis communications, disaster recovery
Natural, technological, industrial, terrorism events
Governance, risk, regulatory compliance
Software, training, awareness
Successful public-private partnerships
Modelling, visualisation, agents, simulation, gaming
More on this journal...
Objectives
The goal of IJBCRM is to provide an academic and professional forum to develop and disseminate research, practical methods, theories, and experiences in the developing area of business continuity and risk management. This growing body of knowledge is vital to lead an organisation in the process of systematic decisions to protect people, assets and operations and to ensure the survivability of an organisation from disaster. A broad spectrum of threats, vulnerabilities and risks will be addressed and the most useful strategies and plans to prevent and mitigate disaster will be addressed.
Readership
Professionals, academics, researchers, planners, managers, and policy makers.
Contents
IJBCRM publishes scholarly research, methodological articles, review papers, case studies, conference reports, book reviews, educational approaches, and news. Special issues are devoted to important topics falling within the scope of business continuity and risk management.
Editor in Chief
Engemann, Kurt J., Iona University, USA
(kengemanniona.edu)
Editorial Board Members
Aguirre, Benigno E., University of Delaware, USA
Aven, Terje, University of Stavanger, Norway
Barnes, Paul, Queensland University of Technology, Australia
Borodzicz, Edward, University of Portsmouth, UK
Brem, Stefan, Federal Office for Civil Protection, Switzerland
Fiedrich, Frank, Bergische Universität Wuppertal, Germany
French, Simon, The University of Manchester, UK
Gaudenzi, Barbara, Università degli Studi di Verona, Italy
Geldermann, Jutta, Universität Duisburg-Essen, Germany
Giambattista, Gian Di, Ontario Power Generation, Canada
Ishikawa, Akira, Aoyama Gakuin University, Japan
Jefferson, Theresa, Virginia Polytechnic Institute and State University, USA
Kelly, Phil, Liverpool John Moores University, UK
Lambert, James H., University of Virginia, USA
Miller, Holmes E., Muhlenberg College, USA
O'Connor, Rory V., Dublin City University, Ireland
Sangle, Shirish, National Institute of Industrial Engineering (NITIE), India
Sheffi, Yossi, Massachusetts Institute of Technology, USA
Statler, Matt, New York University, USA
Zsidisin, George A., University of Missouri–St. Louis, USA
A few essentials for publishing in this journal
Submitted articles should not have been previously published or be currently under consideration for publication elsewhere.
Conference papers may only be submitted if the paper has been completely re-written (more details available here) and the author has cleared any necessary permissions with the copyright owner if it has been previously copyrighted.
Briefs and research notes are not published in this journal.
All our articles go through a double-blind review process.
All authors must declare they have read and agreed to the content of the submitted article. A full statement of our Ethical Guidelines for Authors (PDF) is available.
There are no charges for publishing with Inderscience, unless you require your article to be Open Access (OA). You can find more information on OA here.



Submission process

All articles for this journal must be submitted using our online submissions system.
View Author guidelines.
Journal news
Safeguarding the workplace
28 August, 2023
Safeguarding should become a core objective in organizational management, representing a paradigm shift in workplace well-being, according to work published in the International Journal of Business Continuity and Risk Management. The concept of "safeguarding" has transcended its traditional association with children and vulnerable individuals, and is now reshaping the very fabric of how businesses function. The incidence of workplace bullying, emotional abuse, and harassment of all kinds seems to be on the rise in almost every sector. As such, the new study emphasizes the pressing need for organizations to put safeguarding at the heart of management practices. Vitumbiko Andrew Ngwira of the University of Zambia and Abubaker Qutieshat of Oman Dental College in Muscat, Sultanate of Oman, offer a conceptual paper challenging convention and scrutinizing the various factors surrounding safeguarding [...]
More details...