International Journal of Accounting and Finance
This journal also publishes Open Access articles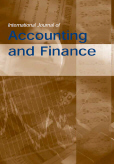 Editor in Chief

Prof. Mostaq M. Hussain

ISSN online

1752-8232

ISSN print

1752-8224
4 issues per year

IJAF initiates and fosters discussion on issues that significantly contribute to the disciplines of accounting and finance, with emphasis on the implications of these disciplines in the ongoing globalisation process in the 21st century. The journal's emphasis on the inter-dependencies of accounting and finance reflects the increasing complexity of corporate financial management in recent years, and verifies the importance of understanding accounting and finance from an international context.
Topics covered include
International and financial accounting
Management and cost accounting
Tax
Auditing
Accounting information systems
Accounting education
Environmental and social accounting
Accounting for non-profit organisations
Public sector accounting
Corporate governance: accounting/finance
Ethical issues in accounting and financial reporting
Corporate finance
Investments, derivatives
Banking
Capital markets in emerging economies
More on this journal...
Objectives
The objectives of IJAF are to establish a platform for policy makers, practitioners, regulatory agencies, academic and research institutions and persons concerned with the complex role of interdependencies of accounting and finance in contemporary organisations. It aims to promote a greater understanding, from an international perspective, of recent accounting malpractice in corporate financial management. IJAF focuses on the international dimension of accounting and finance research and practices consistent with the need to transcend the cultural and national boundaries in a globalised economy.
Readership
IJAF provides an opportunity to accounting and finance professionals, regulatory agencies/authorities, academics, researchers and policy makers in the fields of accounting and finance and other related disciplines at both national and international levels, to share and exchange ideas and experiences, thereby helping them to develop effective responses to the challenges of the 21st century.
Contents
IJAF publishes high quality original manuscripts, review papers, technical reports, case studies, conference reports, management reports, book reviews, notes, commentaries, and news. Special Issues that addresses important accounting and finance questions in the specific context of a region or topic will be published occasionally in order to promote greater understanding of the internationalisation dimensions of accounting and finance.
Editor in Chief
Hussain, Mostaq M., University of New Brunswick-SJ, Canada
(mhussainunb.ca)
Associate Editor
Nainar, S.M. Khalid, McMaster University, Canada
Editorial Board Members
Aras, Güler, Yıldız Technical University, Turkey
Bhimani, Al, London School of Economics, UK
Boulianne, Emilio, Concordia University, Canada
Chong, Gin, Texas A&M University - Prairie View, USA
Crowther, David, De Montfort University, UK
Djajadikerta, Hadrian G., Edith Cowan University, Australia
Durukan, Banu, Dokuz Eylul University, Turkey
Elbannan, Mohamed A., American University in Cairo , Egypt
Fauzi, Hasan, Sebelas Maret University, Indonesia
Haka, Susan F., Michigan State University, USA
Herath, Siriyama Kanthi, Clark Atlanta University, USA
Hindi, Nitham, University of Qatar, Qatar
Hossain, Mahmud, King Fahd University of Petroleum & Minerals, Saudi Arabia
Islam, Majidul, Concordia University, Canada
Jarvenpaa, Marko, University of Jyvaskyla, Finland
Jetty, Juliana, University of Glasgow, UK
Kim, Sungsoo, Rutgers University, USA
Kwon, Sung, York University, Canada
Laitinen, Erkki K., University of Vaasa, Finland
Meyer, Thomas O., Southeastern Louisiana University, USA
Mohamed, Ehab K.A., German University in Cairo - GUC, Egypt
Nandialath, Anup Menon, Zayed University, United Arab Emirates
Nixon, William A, University of Dundee, UK
Olibe, Kingsley O., Kansas State University, USA
Rahman, Sheikh F., Central Queensland University, Australia
Rohde, Carsten, Copenhagen Business School, Denmark
Shabbir, Tayyeb, California State University Dominguez Hills, USA
Shahwan, Yousef, Canadian University of Dubai , United Arab Emirates
Sultan, Jahangir, Bentley College, USA
Tahinakis, Panayiotis, University of Macedonia, Greece
Talha, Mohammad, Prince Mohammad Bin Fahd University, Saudi Arabia
Tourani-Rad, Alireza, Auckland University of Technology, New Zealand
Vasudevan, Gopala, University of Massachusetts - Dartmouth, USA
Waweru, Nelson, York University, Canada
Xue, Shuang, Shanghai University of Finance and Economics, China
A few essentials for publishing in this journal
Submitted articles should not have been previously published or be currently under consideration for publication elsewhere.
Conference papers may only be submitted if the paper has been completely re-written (more details available here) and the author has cleared any necessary permissions with the copyright owner if it has been previously copyrighted.
Briefs and research notes are not published in this journal.
All our articles go through a double-blind review process.
All authors must declare they have read and agreed to the content of the submitted article. A full statement of our Ethical Guidelines for Authors (PDF) is available.
There are no charges for publishing with Inderscience, unless you require your article to be Open Access (OA). You can find more information on OA here.



Submission process

All articles for this journal must be submitted using our online submissions system.
View Author guidelines.