American Journal of Finance and Accounting
This journal also publishes Open Access articles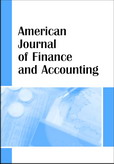 Editor in Chief

Dr. Mark Tampuri

ISSN online

1752-7775

ISSN print

1752-7767
4 issues per year

AJFA publishes cutting-edge research in finance. With a global readership of academics, finance professionals and institutions, each quarterly issue delivers impactful insights. It meets scholarly and practitioner needs, while also covering emerging finance issues, technology and regulatory applications. The journal's strength lies in its comprehensive coverage, commitment to field advancement, and distinction. It serves as a leading platform for advancing finance knowledge worldwide.
Topics covered include
Big data and data analytics in finance and accounting
Blockchain technology and cryptocurrencies
Central bank digital currencies (CBDCs) and central banking
Derivative markets, insurance and banking
ESG (environmental, social and governance) finance
Financial policy, laws and regulations
FinTech, RegTech and SupTech
Investments and portfolio management
Mergers and acquisitions, venture capital and IPOs
Real estate and estate planning
Retirement planning and personal financial planning
Stock market analysis
Accounting theory and practice, including information systems
Asset pricing and corporate finance
Auditing, cost/tax accounting and government/non-profit accounting
More on this journal...
Objectives
AJFA strives to be the leading platform for esteemed researchers and practitioners in the field of finance and accounting. Our goal is to facilitate knowledge exchange, collaboration and scholarly excellence, empowering scholars to make impactful contributions. We are committed to fostering a global academic community that promotes innovation and shapes the future of finance and accounting.
Readership
AJFA caters to a diverse audience of finance and accounting professionals, researchers and institutions worldwide. Our journal provides broad insights on international finance and accounting issues, addressing the needs of a global readership.
Contents
AJFA publishes rigorous, original and high-quality papers encompassing theoretical, empirical and applied research. Our content includes surveys, case studies, book reviews and commentaries, offering meaningful insights into finance and accounting. We prioritise relevance and applicability to real-world situations, ensuring the practical value of our publications.
Editor in Chief
Tampuri, Mark, Academic City University College, Ghana
(editor.ajfagmail.com)
Associate Editors
Bahizire, Grace Mulindwa, Jiangsu University, China
Cai, Wenbo (Selina), New Jersey Institute of Technology, USA
Ely, David P., San Diego State University, USA
Essayyad, Musa, McNeese State University, USA
Rossi, Fabrizio, University of Trieste, Italy
Editorial Board Members
Agrawal, Namrata, Arun Jaitley National Institute of Financial Management, India
Ali, Najabat, Hamdard University, Pakistan
Arora, Ashima, Arun Jaitley National Institute of Financial Management, India
Chong, Gin, Texas A&M University - Prairie View, USA
Elike, Uchenna, Alabama A&M University, USA
Faseruk, Alex, Memorial University of Newfoundland, Canada
Hassab-Elnaby, Hassan, The University of Toledo, USA
Kaodui, Li, Jiangsu University, China
Karbhari, Yusuf, Cardiff University, UK
Karlen-Ng, Alex, University of Northern British, Canada
Laitinen, Erkki K., University of Vaasa, Finland
Matemane, Reon, University of Pretoria, South Africa
Musazi, Buagu, Morgan State University, USA
Ngassam, Christopher, Grambling State University, USA
Ogden, William A., University of Wisconsin - Eau Claire, USA
Rahgozar, Reza, University of Wisconsin, River Falls, USA
Rao, N Maruti, Rani Channamma University , India
Tengesdal, Mark O., Texas Woman's University, USA
Tseng, K.C., California State University at Fresno, USA
A few essentials for publishing in this journal
Submitted articles should not have been previously published or be currently under consideration for publication elsewhere.
Conference papers may only be submitted if the paper has been completely re-written (more details available here) and the author has cleared any necessary permissions with the copyright owner if it has been previously copyrighted.
Briefs and research notes are not published in this journal.
All our articles go through a double-blind review process.
All authors must declare they have read and agreed to the content of the submitted article. A full statement of our Ethical Guidelines for Authors (PDF) is available.
There are no charges for publishing with Inderscience, unless you require your article to be Open Access (OA). You can find more information on OA here.



Submission process

All articles for this journal must be submitted using our online submissions system.
View Author guidelines.
Journal news
Dr. Mark Tampuri appointed as new Editor in Chief of American Journal of Finance and Accounting
23 May, 2023
Dr. Mark Tampuri from the Academic City University College in Ghana has been appointed to take over editorship of the American Journal of Finance and Accounting.