African Journal of Economic and Sustainable Development
This journal also publishes Open Access articles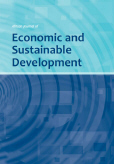 Editor

Prof. Aida Sy

ISSN online

2046-4789

ISSN print

2046-4770
4 issues per year

AJESD recognises the importance of economic development throughout Africa and also the need for this to be sustainable. With current geopolitical tensions and pressure from climate change, etc., it is increasingly vital to explore the whole nature and direction of growth coupled with sustainability in the region. AJESD aims to develop a deeper appreciation of past, current and future African issues to provide guidance and potential solutions. It publishes material that serves African nations in research, development, decision-/policy-making and education.
Topics covered include
Economic development/policies
Accounting and auditing
Development and sustainability management
Development of African industrial sector; African business leaders
Finance, banking, regulations
Anthropology and sociology of development
Corporate governance, public policy
Role of international organisations and multinational companies
Environmental/natural resource economics; climate; forestry
Production of raw materials, international trade
Agricultural systems, role of agriculture
Economy of food systems, populations
Role of democracy, politics, unions; African history
Role of women and education
ICT developments and diffusion
More on this journal...
Objectives
The principal objective of AJESD is to provide an African forum for academicians and professionals in the fields of economic development and environmental economics and related sustainability issues to allow them to disseminate findings to the business community and society.
Readership
AJESD's readership consists of academic institutions, professors, researchers, graduate students, political institutions, professionals, business executives, and executives of local and international organisations.
Contents
AJESD publishes original papers, review papers, technical reports and case studies. Special Issues devoted to important topics within economics and sustainable development in Africa will occasionally be published.
Editor
Sy, Aida, Farmingdale State College, USA
(aida.sy1776gmail.com)
Associate Editor
Ndjetcheu, Louis, Université de Douala, Cameroon
Advisory Board
Fleischman, Richard K., John Carroll University, USA
Fullwiley, Duana, Harvard University, USA
Johnston, Deborah, University of London, UK
Kamdem, David, University of Dschang, Cameroon
Matis, Dumitru, Babes-Bolyai University, Romania
Reinstein, Alan, Wayne State University, USA
Smith, L. Murphy, Texas A&M University-Corpus Christi, USA
Tinker, Tony, Baruch College at the City University of New York, USA
Editorial Board Members
Anabila, Andrew, University of Texas - Pan American, USA
Benjamin, Nosseyamba, Université de Koudougou, Burkina Faso
Choi, Kyungsub S., Rhode Island College, USA
Ekomo Engolo, Camille, Université de Douala , Cameroon
Guah, Matthew W., Claflin University, USA
Hunter, Shirley, USAID/Haiti, Haiti
Inglis, Robert, RMIT University, Australia
Malgwi, Charles A., Bentley University, USA
Mickhail, George, University of Wollongong, Australia
Njoku, Jonathan, Kuwait-Maastricht Business School, Kuwait
Otusanya, Olatunde, University of Lagos, Nigeria
Strouhal, Jiří, University of Economics Prague, Czech Republic
Tchumtchoua, Emmanuel, Université de Douala, Cameroon
Tobe, Djibril, Intercelplus CEO, South Africa
A few essentials for publishing in this journal
Submitted articles should not have been previously published or be currently under consideration for publication elsewhere.
Conference papers may only be submitted if the paper has been completely re-written (more details available here) and the author has cleared any necessary permissions with the copyright owner if it has been previously copyrighted.
Briefs and research notes are not published in this journal.
All our articles go through a double-blind review process.
All authors must declare they have read and agreed to the content of the submitted article. A full statement of our Ethical Guidelines for Authors (PDF) is available.
There are no charges for publishing with Inderscience, unless you require your article to be Open Access (OA). You can find more information on OA here.



Submission process

All articles for this journal must be submitted using our online submissions system.
View Author guidelines.